Prison sentence of Russian tycoon Khodorkovsky extended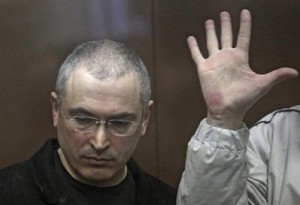 A former tycoon who challenged the rule of Russian leader Vladimir Putin was sentenced to remain in prison until at least 2017 after his conviction this week on embezzlement and money-laundering charges in a politically charged case widely condemned in the West.
Judge Viktor Danilkin sentenced Mikhail Khodorkovsky to 14 years in prison to be served concurrently with a previous eight-year term that he was soon to complete. It was not immediately clear when Khodorkovsky would gain his freedom: The judge implied that the new term would keep him behind bars until 2020, while his defense team said the term would be calculated to start with his arrest in 2003.
Khodorkovsky's business partner, Platon Lebedev, also received a 14-year sentence.
Khodorkovsky didn't say anything in court; he just smiled from inside a bulletproof-glass cage. But his elderly mother, Marina, shouted to the judge: "You be damned, and your ancestors too."
Lebedev and Khodorkovsky were convicted of embezzling the equivalent of $27 billion worth of oil from the now-defunct Yukos company. The verdict found that they had "created an illusion of a market mechanism to set oil purchase prices to hide the illegal documentation of the unfair deals and eventually to steal the oil."
Khodorkovsky, at one time Russia's wealthiest oligarch, had helped fund political parties that sought a Western-style democracy in the wake of the Soviet Union's collapse. His activism put him in direct conflict with Putin, who served as president from 2000 to 2008 before becoming prime minister. The former tycoon was convicted in 2005 on charges of tax evasion and fraud and had been scheduled to be released next year.
The current case was widely condemned in the West as an abuse of the court system for political purposes that called into question Russia's reliability as a political and trading partner.
The U.S. State Department was quick to criticize the sentences handed down Thursday.
"We remain concerned by the allegations of serious due-process violations, and what appears to be an abusive use of the legal system for improper ends, particularly now that Khodorkovsky and Lebedev have been sentenced to the maximum penalty," State Department spokesman Mark Toner said. "Simply put, the Russian government cannot nurture a modern economy without also developing an independent judiciary that serves as an instrument for furthering economic growth, ensuring equal treatment under the law, and advancing justice in a predictable and fair way."
The Putin administration had little to say about the sentences. "I don't think it's worth commenting on today's verdict," spokesman Dmitry Peskov said. "However, I can say one thing: that there is absolutely no connection between this verdict and the topic of Russia's investment image spoken so much about today."
Many liberals and human rights activists in Russia echoed the U.S. concerns about the case and expressed fears that Russia was sliding further back toward the authoritarianism of the Soviet times.
"Unfortunately, what I see reminds me of the dark Soviet times when the Communist authorities organized trials of dissidents to try to cut in the bud any source of free-thinking," said Lyudmila Alexeyeva, a noted dissident who helped organized the Moscow Helsinki Group back in the 1970s. "Putin sent us all a message that from now we can forget about modernization and democratization in Russia."
Alexei Simonov, head of the Glasnost Protection Foundation, said that with this verdict Putin demonstrated that his regime had settled in power for an indefinite time and that he was not going to tolerate opposition.
"People like Khodorkovsky who pose a danger for Putin's regime will be isolated for as long as Putin decides," Simonov said.
Lev Ponomaryov, head of the For Human Rights group, predicted further capital flight and brain drain from the country and fewer investments coming from the West in the wake of the "shameful trial."
However, Khodorkovsky's former business partner, Alexander Konanykhin, now living in New York and London, said the Western response would subside without any serious political and trade repercussions against Russia.
"Despite all the grunts we hear today from Western politicians about Russia's reputation now thrown in jeopardy, many in the Western business society still regard this as a special case in which Khodorkovsky can blame himself for disagreeing to play according to the Kremlin rules," Konanykhin, who fled Russia in the 1990s, said in a telephone interview from Barcelona, Spain. "They all know that the Russian market is huge and oil is coming up in price, and if they stay away from politics, they can do their business in Russia."
"I recall having numerous conversations with Misha [Khodorkovsky] about dangers of doing business in Russia back in the '90s, but he chose to stay and play by his own rules," Konanykhin added. "He lost, and I am very sorry I failed to persuade him then to take his business elsewhere."
During Thursday's sentencing, hundreds of riot police sealed off all approaches to the courthouse. Pedestrians and motorists were advised to choose other routes across snowy Moscow. Some picketers could still be seen half a mile away, holding up portraits of Khodorkovsky. LAT