Gemayel: We are not ready to take lessons from anyone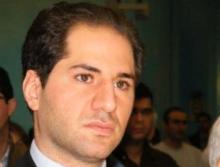 Phalange party MP Sami Gemayel denounced the attack by the Mufti of Mount Lebanon Sheikh Mohammed Ali Jouzo against Maronite Patriarch Nasrallah Boutros Sfeir.
"We read Jouzo's statement  as Lebanon celebrated Christmas. But instead of preaching peace and stability, Jouzo decided to go against the tide and criticized the head of the Maronite Church. He even undermined the glorious history of Christians and accused them of destroying the Lebanese entity".
He added that it would have been more appropriate if the Mufti visited the Patriarch to offer his Christmas greetings and use this occasion to discuss whatever is on his mind privately with the Patriarch ( if he really cares about the Christians and their future in the country ) instead of broadcasting his viewpoint via the media.
"We (Christians) are not ready to take lessons from anyone on our heroic history. Our history is full of sacrifices and heroism ," Gemayel said.
Gemayel admitted that all the leaders of religious sects in Lebanon made mistakes during the civil war and added :"We should remind Mufti Jouzo that he was the biggest defender of the Syrian occupation at the time and provided them with political coverage."
Gemayel emphasized that Sfeir is defending the legacy of the Maronite Church which dates back to 1,500 years ago.