Army reports several Israeli violations of Lebanon airspace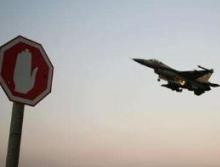 Israeli warplanes violated Lebanon's airspace the Lebanon Army command says. Two fighter jets flew over Akkar region at medium altitude and then headed to the south.
Two other Israeli fighter jets flew over Tyre and Bint Jbeil in south Lebanon at medium altitude.
Another two fighter jets also overflew Kesrouan and Jbeil at low altitude, north of the capital Beirut .
The Lebanon Army stressed that the breach constituted a violation of Security Council Resolution 1701, which ended the 2006 War between Hezbollah and Israel
The latest report comes against a backdrop of growing tension on Israel's northern border. In early December Lebanon uncovered and removed two spying devices planted by Israel in In Barouk and Sannine mountains . Lebanese media also reported that an explosion that rocked the city of Sidon in mid December was caused by an Israeli bombing of one of its sea-based intelligence- gathering units.
According to local reports another Israeli spying device was found and dismantled today by the Lebanese army ( with Hezbollah's help) in Toumat Niha , in the Shouf region east of Beirut .