West African leaders hold emergency talks over Ivory Coast crisis
West African leaders are meeting to discuss the violent political showdown that has gripped Ivory Coast since last month's disputed presidential election, while a militant youth leader loyal to incumbent president Laurent Gbagbo calls for protests against what Gbagbo supporters say is foreign interference in the country's affairs.
Heads of states of the West African regional bloc, ECOWAS, are meeting in the Nigerian capital, Abuja. The United Nations says more than 170 people have been killed in the violence.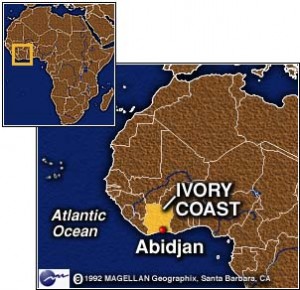 ECOWAS has suspended Ivory Coast and is but one of many foreign powers, including the European Union, the African Union and the United States, that is calling on incumbent president Laurent Gbagbo to step down.
The ECOWAS meeting comes a day after the U.N. General Assembly formally recognized challenger Alassane Ouattara as the winner of Ivory Coast's November 28 presidential runoff.
Nigerian Foreign Affairs Minister Henry Odein Ajumogobia told VOA that Nigerian president and head of the ECOWAS regional bloc, Goodluck Jonathan, has offered Gbagbo assistance if he will cede power.
"He has a choice of what he does if he steps down. Nigeria, the president Jonathan, has offered assistance to give him a dignified resettlement whatever that means for him," Ajumogobia said. "If he wants to stay in Ivory Coast or if he wants to leave, Nigeria will do whatever it can to make his retirement comfortable."
The Central Bank of West African States ratcheted up pressure on Gbagbo Thursday by blocking his access to funds. The seven-member regional bank said it would allow only Ouattara's government to access the money, calling Ouattara the "legitimately elected president."
Gbagbo, however, remains defiant.
His supporters, led by militant youth leader Charles Ble-Goude, accuse foreigners of threatening Ivory Coast's sovereignty and have vowed to fight to keep Gbagbo in power.
Ble-Goude says foreigners have crushed the dignity of Ivory Coast and of Africa and disrespected Ivory Coast's laws. He says France and the United Nations are preparing a genocide in Ivory Coast. Faced with all this, he says, the youth of Ivory Coast, and all of Africa, want respect for the dignity of Africa and peace in Ivory Coast. He says he is calling for a demonstration next Wednesday in Abidjan to show the world that African countries want to decide their own fates.
The Ivorian army affirmed its support for Gbagbo Thursday, a day after Ouattara's prime minister called for the international community to consider removing Gbagbo by force.
Human Rights Watch issued a statement Thursday saying that pro-Gbagbo forces are kidnapping Ouattara supporters and making them "disappear."
U.N. human rights monitors are reporting 90 cases of torture or abusive treatment, 24 forced disappearances and hundreds of arrests in the five days following last week's opposition protests.
Ouattara remains holed up in an Abidjan hotel protected by U.N. peacekeepers and former rebel fighters.
The United Nations says its 10,000-member peacekeeping force will remain in Ivory Coast, despite Gbagbo's demands they withdraw and what it said are attempts by Gbagbo's camps to incite attacks on peacekeepers.
Many observers, including U.N. Secretary General Ban Ki-moon, worry the tense political stand-off could reignite a 2002-2003 civil war.VOA