STL prosecutor: Evidence is my only guide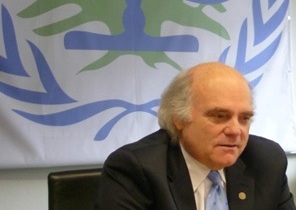 In one of the videos posted on the Special Tribunal for Lebanon's (STL) website on Wednesday, STL Prosecutor Daniel Bellemare said in a question and answer session that accusations that the tribunal is politicized are being made by people who might fear the outcome of the tribunal's decision or the tribunal's efforts to uncover the truth.
Allegations of politicization are groundless, he said and added : "If I am influenced by governments then the Tribunal could be considered politicized but I make my own independent decisions and evidence is my only guide ."
Bellemare also said: " The fact that this institution was created by a political body or the fact that we are operating in a highly politicized environment does not mean we are politicized .
In another video and in response to a question why the investigation is taking such a long time Bellemare said:" Behind every inch of progress there is a mile of work so it takes time to pursue all credible leads to negate leaks that are not credible. "
Tension escalated in Lebanon following reports that the Special Tribunal for Lebanon will soon issue its indictment into the 2005 assassination of Lebanon's former Prime Minister Rafik Hariri. Last July, the Hezbollah chief Sayyed Hassan Nasrallah said that the tribunal is "an Israeli project" that will indict Hezbollah members. Nasrallah accused Israel of being behind Hariri's assassination but refused to provide the evidence to STL to support his claim. Hezbollah and its March 8 allies have been calling for the abolition of STL.
Hezbollah has spearheaded several campaigns with the aim of discrediting STL. On Monday Iran's supreme leader Ayatollah Ali Khamenei joined Hezbollah's campaign against the Special Tribunal for Lebanon . He announced after a meeting with the emir of Qatar, Sheikh Hamad bin Khalifa Al-Thani that any indictment handed down by a U.N.-backed court looking into the 2005 killing of former Lebanese Prime Minister Rafik Hariri will be "null and void."