Jumblatt heads to Iran within 2 weeks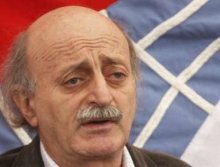 Lebanon's Progressive Socialist Party Leader MP Walid Jumblatt is to visit Iran within the next two weeks, Iranian Students news Agency ISNA reported on Tuesday…
During a recent meeting with Iranian ambassador to Lebanon Ghazanfar Roknabadi, Jumblatt praised Iran's stances.
Jumblatt said the latest regional developments, Tehran-Beirut relations, Iranian President's recent trip to Lebanon as well as Lebanese Prime Minister's visit to Iran will be discussed during his upcoming trip to Tehran.
Jumblatt's visit to Tehran comes after Several March 14 leaders were outraged by the remarks of Iran's supreme leader Ayatollah Ali Khamenei who joined Hezbollah's campaign against the Special Tribunal for Lebanon ( STL) .
Khamenei announced after a meeting with the emir of Qatar, Sheikh Hamad bin Khalifa Al-Thani that any indictment handed down by a U.N.-backed court looking into the 2005 killing of former Lebanese Prime Minister Rafik Hariri will be "null and void."