Russian president coming to Lebanon in January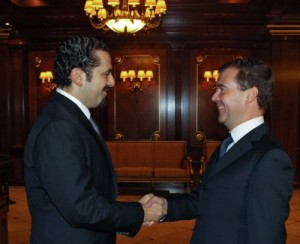 Russia's President Dimitri Medevdev will head to Lebanon during the second half of January on an official visit , Al Liwa newspaper reported Monday morning
According to diplomats the purpose of the visit is to reiterate Russian support for stability in Lebanon and to further develop the relations between the 2 countries.
Prime Minister Saad al-Hariri said at the end of the talks that he held last month with Russian PM Putin that Russia has decided to donate to the Lebanese army six helicopters model MI 24, thirty one tanks model T-72 , thirty six cannons 130 mm , about half a million munitions for various weapons and thirty thousand artillery shells for the 130 mm cannons.
Russian Itar-Tass News Agency has reported that Putin has asked his Lebanese counterpart to support the participation of Russian companies in tenders in his country.
"We will seek your support in promoting Russian companies' bids for tenders in your country," Itar-Tass quoted Putin as saying during his meeting with Hariri on Monday.
Hariri has reportedly assured Putin that he would welcome any Russian company on the Lebanese market in such sectors as transport, energy, dam and railway construction.