Iranian Supreme leader joins Hezbollah campaign against STL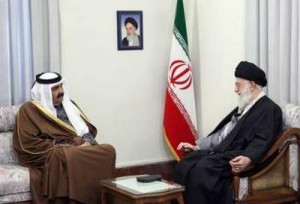 Iran's supreme leader Ayatollah Ali Khamenei joined Hezbollah's campaign against the Special Tribunal for Lebanon ( STL) . He announced after a meeting with the emir of Qatar, Sheikh Hamad bin Khalifa Al-Thani that any indictment handed down by a U.N.-backed court looking into the 2005 killing of former Lebanese Prime Minister Rafik Hariri will be "null and void."
"This court is a kangaroo court, and every verdict it issues is rejected," Khamenei said
Khamenei 's comments, come a day after Lebanese parliament speaker Nabih Berri, a key Hezbollah ally told Iranian media that a potential indictment against Hezbollah is "political blackmail by some of the world's most powerful countries."
This also comes after Hezbollah Deputy Secretary General Sheikh Naim Qassem said last Friday:
"We have buried the Special Tribunal for Lebanon (STL) indictment before it has even been issued."
Qassem also said: "They are using the American-Israeli STL to score a victory against us. The indictment will not change a thing so it has become worthless to us."
The Special Tribunal for Lebanon , a body created by the United Nations Security Council in 2007 , at the request of the Government of Lebanon to investigate the 2005 assassination of former Prime Minister Rafik Hariri ( and 22 others) , has announced that it may issue indictments in the case by the end of 2010. Some Lebanese political leaders have warned publicly that the Tribunal's findings could spark civil unrest or other violence.
The tribunal reportedly suspects a top leader from Hezbollah …Secretary General Hassan Nasrallah … of involvement in the killings. Analysts say the group is backed by Iran and Syria.
Hezbollah on the other hand accuses Israel of being behind Hariri's death and has spearheaded several campaigns in an effort to discredit the court ..