France keeps its promise, will supply LAF with 100 missiles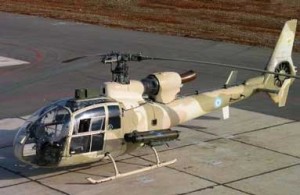 A Lebanese government official said on Friday that France will give Lebanon 100 anti-tank missiles.
"Prime Minister Saad Hariri was informed on Wednesday of the French decision to supply the army with 100 HOT missiles that will be used by the military's Gazelle helicopters that Lebanon has received from the united Arab emirates ," the official said
"The missiles will be delivered before the end of February and are being given with no conditions attached."
Al-Hayat newspaper quoted French sources as saying that Fillon discussed the issue with the Lebanese prime minister during his visit to Paris two weeks ago.
French ambassador Denis Pietton delivered to Hariri a letter from Fillon earlier in the week informing him about the new French decision,
The deal has reportedly raised concerns in Israel and the US, but the French believe that "the quantity of these missiles cannot change anything in the balance of power, which blatantly tips toward Israel, " according to French sources
Last August, a US lawmaker objected to the transfer saying the missiles could end up being used against Israel given the influence of Hezbollah in Lebanon.
"The influence of Hezbollah and its Iranian and Syrian backers in the Lebanese government is rising," Representative Ileana Ros-Lehtinen, the ranking Republican on the US House Foreign Affairs Committee, had said.
"Therefore, to sell weapons to Lebanon at this time would be very irresponsible and could jeopardize security and stability in the region," she said.
Last November, Washington lifted a hold it had placed on $100 million in military aid to Lebanon after receiving assurances that the army would closely monitor the border with Israel and that the assistance would not be diverted to Hezbollah.