Dubai property prices may continue to fall, report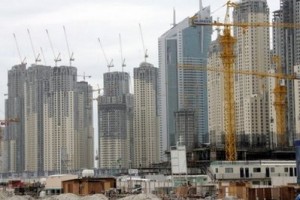 Dubai property prices may drop for the next two years, extending a decline in the Arabian Gulf sheikhdom that's already cut values by more than 60 percent since the 2008 peak.
Residential values may fall as much as 20 percent more by the end of 2012 if new homes are built as planned, according to broker Landmark Advisory in Dubai. Cluttons LLP, a London-based property consultant, and Jones Lang LaSalle Inc., the second- largest publicly traded commercial property broker, also forecast further declines.
About 48,000 homes will come on to the market in the next two years, or about 12 percent of existing supply, according to Jesse Downs, director of research at Landmark. An influx of foreign buyers sparked a construction boom as prices rose by 79 percent to mid-2008 from 2007 before the financial crisis caused lenders to tighten credit and speculators left the market.
"There is still no parity between supply and demand," said Paul Richard, associate director at Cluttons in Dubai, which estimates that 35,000 homes will be completed through 2012. "You're looking at a good two years" for Dubai's market to reach bottom, he said.
Craig Plumb, head of Middle East research at Jones Lang, said prices are still falling and the rate and duration of the decline will depend on the type of property. Hotels will recover first and commercial properties last, he said in a telephone interview.
Developers Slump
Emaar Properties PJSC, Dubai's biggest developer and the builder of the world's tallest tower, reported a 7 percent drop in third-quarter profit, missing analyst estimates, as costs and writedowns increased. Construction firm Arabtec Holding PJSC saw earnings slump 96 percent, while apartment and office builder Deyaar Development PJSC reported a loss. Home prices fell 6 percent in the quarter from the previous three months, Colliers International said on Nov. 7.
Almost half of Dubai's planned real estate projects, from offices to villas, were canceled as buyers defaulted and access to funding became harder. Residents who lost their jobs had to leave the country within 30 days, causing many to abandon their cars and mortgages.
Emaar Chairman Mohamed Alabbar said last month that Dubai's market has bottomed out "without a doubt," and "not much" new housing supply is coming on the market.
Predictions of an end to the slump have proven overly optimistic in the past. In May 2009, Markus Giebel, then the chief executive officer of Deyaar, said the property market would bottom out that year. In the same month, Landmark Advisory said home values may stop sliding in the fourth quarter of 2009.
Foreigners Wanted
"Without an influx of demand from outside the country, forget about it," Cluttons's Richard said. He estimates that home prices will drop 5 percent to 10 percent by next summer.
Attracting foreigners became more challenging after the government changed residency rules last year. From 2002, property ownership qualified the buyer for a five-year residency visa that was easily renewed. That changed in May 2009, when new United Arab Emirates regulations cut the length of residency visas to six months and required holders to leave the country and return for renewals, paying 2,000 dirhams ($546) per visa each time.
The law also says a property must be worth at least one million dirhams and be large enough to accommodate the number of people granted residency as a result. In addition, it requires the buyer to have monthly income of no less than 10,000 dirhams as well as medical insurance.
No Security
"The visa rules have been highly damaging and definitely shattered people's confidence," said Ludmila Yamalova, a partner at law firm HPL Yamalova & Plewka JLT. "Many bought property just because that would enable them to live here. They had their five-year residency and built their lives around it. Now they don't have that security."
Service fees charged by developers for maintenance of common areas such as pools and gyms have discouraged potential buyers interested in generating rental income, Cluttons's Richard said. The fees can cut a landlord's return by almost half.
Landmark Advisory's Downs said new properties will drive down rents, pushing values lower.
"Rents are very important because occupier demand leads investor demand," she said in an interview.
Downs predicts home prices will drop 15 percent to 20 percent by 2012 if the most residential buildings currently under construction go onto the market as scheduled.
"If the pipeline is delayed, that will only prolong the cycle," she said. Properties won't see renewed demand "until prices come down further and buyers have greater certainty over long-term rent yields."