Alexandria factory victims reach 15 deaths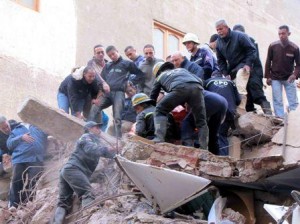 The number of deaths caused by the collapse of a textile factory in Alexandria has increased to 15 after a civil defense team on Tuesday retrieved two bodies from under the rubble.
Around 50 workers were inside the six-story factory located in Moharram Bek, east of Alexandria, when torrential rains and strong winds forced the collapse.
Severe weather conditions have rocked Egypt's northern coastal areas since Saturday.
Sources said the death count is likely to increase in the upcoming hours as the civil defense team continues its efforts to rescue the remaining victims.
Alexandria general prosecution is still investigating the accident to determine whether there were any orders issued for the demolition or restoration of the structure. A committee of engineering professors will be formed to determine definitively the reasons behind the collapse.