TUSKON is promoting Arab-Turkish trade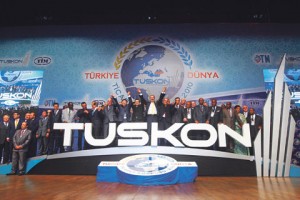 Seventy companies and hundreds of businessmen from Turkey and Middle Eastern countries assembled in İstanbul on Saturday at a meeting organized by the Turkish Confederation of Businessmen and Industrialists (TUSKON) to sign new business deals and further increase trade and economic interaction.
"Turkey-Middle East Trade Bridge — 3", a business forum that brought nearly 200 Turkish businessmen with their Middle Eastern counterparts, primarily from Lebanon, Syria and Jordan, was interpreted as another bold move that would facilitate a swelling in trade between Turkey and these countries. Seventy companies from various countries doing business in textiles, construction, home and office furniture, food and tourism displayed their products in 33 booths.
Amman Chamber of Commerce President Riad Saifi said Turkish TV series have caused a tremendous increase in sale of products by Turkish brands in Arab countries.
The Turkish series "Gümüş" (Silver) and "Ihlamurlar Altında" (Under the Linden Trees) were some of the first Turkish productions to break viewing records on Arab stations. Nearly 10 Turkish-produced series are being aired on various Arab stations, prompting more visits to Turkey by citizens of Arab nations. More than 2 million Arabs chose Turkey as their vacation destination last year, and this number is now rapidly swelling.
Uğur Çelik, a representative from Oylat Kaplıcaları A.Ş., a company operating thermal springs in Bursa's Oylat neighborhood, in an interview with Today's Zaman said they do not need advertising because they are always at 100 percent capacity. Even in non-seasonal periods, he said, 60 percent of their hotel was full, which he termed a "very good outcome." He also added that they had received 300 families from the Middle Eastern countries so far this year and said this figure has been on the rise over the years as Arabs have begun to explore and discover similar touristic attractions in Turkey. "We will also apply the same acceleration to our current $80 million in trade [between Turkey and Jordan] to reach $300 million soon," Saifi said, adding that trade relations between the two countries date back centuries.
Prominent companies from Jordan
Noting that the institution he heads is the largest economic organization in Jordan, with 45,000 active members, Saifi said he arrived in Turkey with the most important Jordanian businessmen. He also stated that a free trade zone agreement Turkey recently signed with Jordan has had a positive effect on their trade, noting that an agreement that was expected to be signed between the chamber and TUSKON will further improve cooperation.
Speaking to Today's Zaman, Khaled Khalili, general manager of Trans-Jordan for Electro Mechanical Supplies Co., said visa exemption deals Turkey struck with Middle Eastern countries have indeed facilitated trade between firms in his country and Turkey, adding that his company's business with Turkey reached $2 million and lauding Turkey's recent outreach to these countries.
Ahmed Kharma, general manager of Kharma Trading and Importing Co., and Mahmoud Kamel Altrter, general manager of The Kind Land from Amman, told Today's Zaman that they welcome these kinds of TUSKON events, which have benefited them for years. Kharma said ceramic tiles, sanitary ware and central heating systems that his company was focused on has made huge strides in business and picked up a momentum in ties with Turkey thanks to TUSKON's mediating role.
The foreign ministers of Turkey, Syria, Jordan and Lebanon decided in a meeting on June 10 of this year to set up a high-level quartet cooperation council to boost existing legal mechanisms in free trade and visa exemption deals to improve trade cooperation between these four countries. The cooperation council seeks "to develop a long-term strategic partnership" and to "create a zone of free movement of goods and persons among our countries" during a meeting on the sidelines of a Turkey-Arab cooperation forum in İstanbul in June.
Foreign Minister Ahmet Davutoğlu also met with his counterparts from Lebanon, Syria and Jordan on the sidelines of the UN General Assembly meetings in New York in late September to discuss the cooperation council. He said the free trade zone was likely to be formally announced at a summit of leaders of the four countries, slated to take place in İstanbul in January in 2011. "We will declare at that summit that this economic zone is in effect," Davutoğlu told reporters. "We hope that this is good news not only for these four countries but also for the entire region."
The four-way cooperation will focus on four areas in the coming months: energy, trade, transportation and tourism. According to a scheme of the division of labor, each country will be in charge of coordinating efforts in specific areas, with Turkey being tasked with cooperation in trade. In November, ministers of energy, trade, tourism and transportation met to review the efforts in this regard.
Turkey an alternative for India
Khalid Khalaileh, general manager of Canada International, which also has a regional office in Jordan, said this is the first time he has attended a TUSKON event but said TUSKON has been doing a nice job in bringing businessmen from various countries together to make business deals. "I have already made one," he added. Noting that Turkey is a trusted country and vested tremendous interest in engaging in trade and expanding economic activity with this country, he asked why firms in Middle Eastern countries feel the necessity to trade with India or China. Khalaileh said Turkey is not only a Muslim country and a trusted partner in business but also offers goods of high quality.
TUSKON President Rızanur Meral, briefing participants in the business forum, said businessmen from 42 countries, predominantly Jordan, Lebanon and Syria, participated in the event. Meral said TUSKON brought together 200 Turkish businessmen with Middle Eastern businessmen, who then went over business deals on 45 tables.
Meral said Turkey's total trade volume with Syria, Lebanon and Jordan is $4.5 billion and that this is only 2.5 percent of total Turkish trade. "Although this seems small, we plan to reach $10 billion in upcoming years," the TUSKON president said. Stressing that Turkey is the fifth largest market in its trade with Iraq, Meral said it also expects the same acceleration with Syria, Lebanon and Jordan, adding that home textiles, furniture, food and construction sectors are making inroads in these three countries.
Cengiz Yılmaz, vice president of the Mayem Group, which encapsulates five firms doing business in such fields as construction, PVS systems and architecture, said his group has been doing business in Central Asia and the Balkans, but also reached out to the Middle East starting in 2006. Noting that work in northern Iraq to build shopping centers, hotels and the largest hospital in the region is under way, Yılmaz said they also won very large projects in Libya.
Kamil Yılmaz from the Arkyapı Group, largely involved in construction, told Today's Zaman that they have been expanding to the Middle East in recent years and have engaged in very good business in countries in the region.