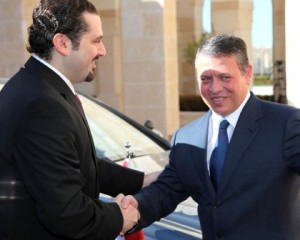 Jordan's King Abdullah II said Sunday he was seeking "practical steps" to improve his frosty relations with Iran, a contrast to his regime's frequent criticism of Iran's policies.
The call came in a closed-door meeting with Esfandiar Rahim Mashai, director of Iranian President Mahmoud Ahmadinejad's office, Abdullah's Royal Court said in a statement.
Abdullah has been one of Iran's harshest critics in recent years, warning that its growing influence in the region could undermine him and other pro-American moderates.
The Royal Court statement said Abdullah accepted Ahmadinejad's invitation to visit Tehran soon, but no date was set.
The Jordanian statement quoted Abdullah as saying it was "imperative to undertake practical steps for improving Jordanian-Iranian relations in the service of both countries, their brotherly people and joint Islamic causes and to consolidate security and stability in the region." It gave no details of what steps might be taken.
As early as 2004, Abdullah warned of Iran's growing influence in Iraq and the rest of the region.
In U.S. cables released by WikiLeaks, U.S. Ambassador to Jordan Stephen Beecroft quoted Jordanian officials describing Iran as an "octopus" whose tentacles "reach out insidiously to manipulate, foment, and undermine the best laid plans of the West and regional moderates."
Iran's "tentacles" include Qatar, Syria, the militant Hezbollah in Lebanon, Hamas in the Palestinian territories, an Iraqi government linked to Iran and Shiite communities across the Mideast, according to the cables. WP
Photo: Just like Lebanese Prime Minister Saad Hariri ( L) Jordanian king Abdullah II is seeking to improve his frosty relations with Iran. Hariri was in Iran at the end of November on a 3 day official visit
This error message is only visible to WordPress admins
Error: No connected account.
Please go to the Instagram Feed settings page to connect an account.