Lebanon's PM takes pragmatic approach in seeking unity
Since Saad Hariri was thrown into Lebanese politics, he has worked to keep the country unified. The question is whether his approach will be enough to hold Lebanon together.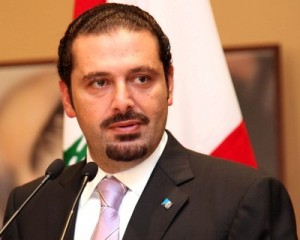 Since Saad Hariri was thrown into Lebanese politics after his father's assassination five years ago, he has worked to keep the politically and religiously fractious country unified. Now the question is whether the pragmatic approach he's employed as prime minister will be enough to hold Lebanon together.
In the past year, Hariri has tried to maintain good ties with his political enemies. He's kept together an unwieldy coalition that includes the Shiite militia group Hezbollah, which, according to leaks from an international investigation, is likely to be fingered in his father's killing.
Realizing that no Lebanese leader can survive without good ties to the Syrian leadership, Hariri traveled five times to Damascus and recanted an allegation that Syria was behind his father's death.
On Saturday, he is set to fly to Tehran to strengthen ties with Hezbollah's sponsor, Iran, firming up a bilateral relationship that rattles the West.
"What I try to focus on," Hariri said in a rare interview in Beirut, "is how to keep the country intact, how to keep the unity of the Lebanese."
That task has become particularly challenging as a United Nations-backed tribunal prepares to issue indictments in his father's killing. Hezbollah has threatened to use violence if its members are accused and has pressured Hariri to stop backing the tribunal. So far Hariri has stood firm – even as some Lebanese have counseled that he should not seek justice for his father at the expense of Lebanese stability.
"I'm seeking justice for the country," Hariri said when asked about the dilemma at his elegant new residential and work complex, which is outfitted with a gym, pool and cigar room. "Nothing's going to return my father to me."
After former prime minister Rafiq al-Hariri was killed by a car bomb in February 2005, his son – who had not been involved in politics before – rose to the head of the pro-Western March 14 movement and, in elections last year, became prime minister.
Now the tall, fit, 40-year-old billionaire spends his days trying to navigate messy Middle Eastern politics and stay in power. Hariri – who speaks in a muted monotone – insists repeatedly that he can resolve Lebanon's internal differences through calm negotiation.
The problem is that the person with whom he most needs to work things out is Hezbollah leader Hasan Nasrallah, who has refused to meet with Hariri until he declares that the militant group had nothing to do with his father's assassination – and recently threatened to "cut off the hand" of anyone who tries to arrest Hezbollah members in the crime.
Hezbollah has portrayed the tribunal as a witch hunt. "Whoever thinks that the resistance will not defend itself and its honor against any accusation or attack by whatever means it finds appropriate . . . is mistaken," Nasrallah said in a televised appearance this month.
Despite that stance, Hariri remains supportive of the tribunal.
But Hariri has bent to pressure.
To end a political deadlock that had left the country without a government for five months, Hariri last year gave in to Hezbollah's demands regarding cabinet positions. The power-sharing deal that was struck gave Hezbollah and its allies – which won about half the popular vote in last year's elections – enough power to block initiatives brought forth by Hariri and his allies.
Hariri also sought rapprochement with Syria, largely because Saudi Arabia, his chief patron, told him to.
Any Lebanese prime minister might have been forced to make the same moves. One Lebanese analyst, who spoke on the condition of anonymity because he did not want to appear critical of Hariri at such an uncertain juncture, described Hariri's job as "muddling through and maintaining some calm and avoiding civil war."
One area where Hariri may have fallen short is in day-to-day management of government affairs. Hezbollah has turned every recent cabinet meeting into a debate about the tribunal and blocked consideration of routine initiatives. Contracts for new broadband systems or other infrastructure projects remain on hold, worrying some of the country's top businessmen, who have appealed to Hariri to end the deadlock.
"In terms of his management of government and politics of the country, it's very mixed. He hasn't been terribly impressive," the Lebanese analyst said.
But it is trying to survive as prime minister that has been Hariri's toughest challenge. "Saad is the weakest player in the world's most vicious and deadly politics," said Bruce Riedel, a former senior U.S. administration official and CIA analyst now with the Brookings Institution.
Hariri represents the Sunni community, which, along with the Christians, has steadily lost stature and influence to Lebanon's Shiites since the end of the civil war in 1990. His chief foreign allies – Saudi Arabia, the United States and France – are far away and fitful in their engagement.
Hariri doesn't have the military or political power to disarm Hezbollah, as the United States and others have pressured him and previous Lebanese leaders to do. And he acknowledges that the militia must be dealt with respectfully.
"In the end, Hezbollah is a political party that has, in its region in parts of Lebanon, won members of parliament so they were elected democratically. So either we want to respect that democracy or we don't," Hariri said.
Security threats
Hariri wasn't destined to be prime minister. When his father was assassinated, Hariri was running one of the most profitable construction companies in the world, Saudi Oger. The family's success in that and other businesses has made him the 536th richest man in the world, with a wealth estimated at $1.9 billion, according to Forbes magazine.
Despite the fervent Lebanese nationalism he articulates in every public appearance, Hariri, who received his BA at Georgetown University, has spent much of his life studying or working abroad. Today, his wife and three children live in Riyadh, the Saudi capital.
"I want my children to have a normal life. To be here in Lebanon with all the threats we get sometimes, I don't want them to live with 100 security [guards] and all of that," Hariri said.
The security threats mean Hariri spends much of his time at home, hosting a parade of politicians, visiting diplomats and businessmen. When he's not working, he's cooking for friends – Indian, French, Chinese, Italian or, as on one recent evening, the Saudi rice-and-meat dish kapsa.
When he leaves his compound, it is mostly for travel abroad, including trips to enjoy scuba diving and riding motorcycles in Saudi Arabia. This month, Hariri flew to Abu Dhabi, capital of the United Arab Emirates, for the Formula 1 Grand Prix. Another Middle Eastern scion was also there: Gamal Mubarak, who many believe could succeed his father, Hosni, as president of Egypt next year.
But Hariri's most significant trips since becoming prime minister in June 2009 have been to Syria. The retraction of his allegation that Syria killed his father appeared made more out of political necessity than total conviction.
"We needed to open a new page with Syria, so I did," Hariri said when pressed about the reasons for his about-face. "In 2005, there was a lot of tension and I think there were a lot of allegations. . . . I believe taking a courageous step to moving forward and clearing the relationship with a nation or country like Syria is important. I said what I had to, what I believe, and still do."