March 8 criticizes timing of Erdogan's visit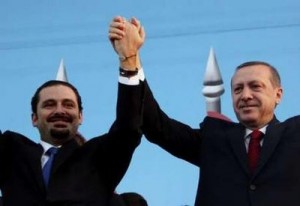 Central news agency (CNA) quoted on Wednesday an unnamed March 8 source as saying that Turkish Prime Minister Recep Tayyip Erdogan's visit to Lebanon comes at the wrong time.
"It looks like it is a reaction to Iranian President Mahmoud Ahmadinejad's visit," the source said.
The source accused Hariri of monopolizing Erdogan's visit.
Even though we appreciate the Turkish stance that is open on the Arab and the Muslim level in the region, Erdogan should be at the same distance from everyone, the source also said.
Ahmadinejad's reception of Lebanese Forces leader Samir Geagea and Phalange Party leader Amin Gemayel in Baabda was done purposely to show that Iran is at the same distance from everyone although it supports the Resistance, the news agency quoted the source as saying.
"We do not think Erdogan's visit aims at the same thing ."
The Iranian president was in Lebanon from October 13 to 14 . He had a huge reception by the Iranian and Syrian backed Hezbollah militant group.
While Iran is Muslim Shiite country , Turkey is Muslim Sunnite .
In a related development Industry Minister Apraham Dedeyan , an Armenian minister and a member of the Hezbollah-led March 8 alliance said in an interview to be published Thursday that the Armenian ministers will protest Erdogan's visit by abstaining from voting on any agreement signed with Turkey.
Dedeyan told Al-Balad that the Armenians would commit to the agreements.
"We cannot forget that Turkey was one of Israel's strongest allies, and they have now grown apart. We will wait more to know whether the two countries' ties have really worsened ."
Another March 8 Armenian leader and a member of the Change and Reform bloc MP Hagop Pakradounian criticized the government for the way it handled the protesters against Erdogan's visit . He told New TV: "Removing the banners condemning Erdogan's visit is a dictatorial act and I hold the interior minister responsible."
About a hundred Armenians protested at the airport against Erdogan's visit, but another group of about 100 supporters welcomed him on his arrival with Turkish and Lebanese flags.
On the other hand Armenian Henshaq MP Sebouh Kalbakian, a member of March 14 alliance said on Wednesday that there is no intent to harm Lebanese-Turkish relations and added, "We know what the Turkish role in the region is today."
According to a statement issued by the MP on the occasion of Turkish Prime Minister Recep Tayyip Erdogan two-days official visit to Lebanon, Kalbakian said the objection to the visit is out of respect to "martyrs as well [their] memory."
The MP called on Lebanese, Syrian and Iranian officials who have good relations with Turkey to intervene and call on Turkey to apologize to the Armenians.