Sarkozy: Today's missile threat, it's Iran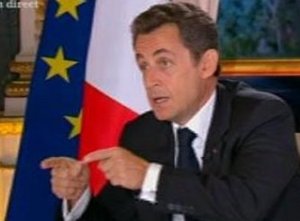 France's President Nicolas Sarkozy said Saturday that Iran poses the main threat of the type of rogue attack that NATO's planned anti-missile defence shield is designed to foil.
"No name appears in the documents made public by NATO, but let's call a spade a spade: today's missile threat, it's Iran," he told reporters at the NATO summit in Lisbon.
The 28 member alliance had earlier agreed on a plan to design a network of radars and interceptor rockets to shoot down missiles targeted at NATO member states, and to invite former rival Russia to take part.
Several allies have in recent years expressed concern at Iran's ballistic missile programme, but fellow NATO member Turkey insisted that its neighbour not be singled out as a threat in official policy documents.Times of India