Nahas is under pressure to resign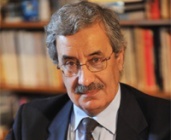 During an interview with Future TV , March 14 MP Atef Majdalani called on Telecommunications Minister Charbel Nahas to resign.
He said that Nahas' conduct with PM Saad Hariri is immoral.
Majdalani's comment comes after another March 14 MP accused Nahas of corruption .
During a press conference on Friday March 14 MP Ghazi Youssef accused Telecommunications Minister Charbel Nahhas of using the ministry funds illegally.
Youssef revealed to the media that Nahas instructed both Fransabank and Bank Audi – Saradar to issue checks amounting to $300,000 in the name of his personal adviser Moussa Khoury
During in an interview with An-Nahar newspaper that was published on Saturday Youssef called on the financial prosecutor general to interrogate Nahas over the illegal use of public funds and said he is ready to provide all the evidence itn his posession
Another March 14 MP Ziad al-Qadiri said during a press conference last Monday at the parliament that Nahas is violating the law and the constitution in his handling of telecommunications finances.
According to local reports Nahas, a member of the Free patriotic Movement which is closely associated with Hezbollah has refused to transfer the revenues generated by the telephone ministry to the Lebanese treasury.
Another March 14 MP Riad Rahhal said last Monday that Nahas ought to resign because of his insult to Prime Minister Saad Hariri and " for being a failure at his job".
Rahhal described Nashas as the " student of the school of hatred, lies and collaboration."
During the last cabinet meeting Nahas accused the March 14 majority of succumbing to Washington and Israel, but Hariri replied: "These statements are not acceptable. Israel puts pressure on you and people like you, but not on us."