Saudi-Syrian efforts may help resolve Lebanon tension, report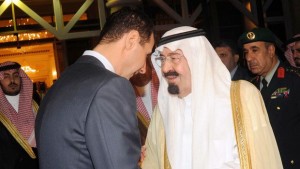 Saudi-Syrian efforts to resolve Lebanese tensions have reached an advanced stage and a Saudi official will be in Damascus within hours to meet with Syrian president Bashar al Assad to finalize the plan for establishing calm and stability in Lebanon, according to Lebanon Files .
Saudi newspaper Al-Watan also reported on Friday that the Saudi-Syrian efforts to resolve Lebanese tensions could produce a positive result within 72 hours.
The paper said that the compromise is reportedly based on "establishing calm and stability and transferring the false witnesses file to the regular judiciary and to await the Special Tribunal for Lebanon (STL) indictment before examining the necessity of transferring it to the Judicial Council."
The rumored compromise would also see Prime Minister Saad Hariri publicly embracing the Resistance as a "national necessity," the paper added.
Lebanese newspaper Al-Balad also reported on Friday that Saudi-Syrian efforts have reached a "nearly-finished agreement that could soon become a tangible reality" strengthening civil peace and stability in Lebanon.
The agreement could restore the Lebanese government and its institutions to their natural state as long as there is no Israeli or American intervention against it, the report said.
The agreement also includes steps by Prime Minister Saad Hariri to affirm support for the Resistance and protect it against any kind of attack, along with creating a media environment that can "absorb any shock created by the indictment " the report says
A meeting between Hariri and Hezbollah Secretary General Sayyed Hassan Nasrallah is also part of the arrangement, in which "both men will affirm their rejection of targeting the Resistance, while reaffirming the necessity of reaching truth and justice in former PM Rafik Hariri's 2005 assassination," the paper added.
Tension escalated in Lebanon following reports that the Special Tribunal for Lebanon will soon issue its indictment into the 2005 assassination of Lebanon's former Prime Minister Rafik Hariri. Last July, the Hezbollah chief said that the tribunal is "an Israeli project" that will indict Hezbollah members. Sayyed Hassan Nasrallah accused Israel of being behind Hariri's assassination but refused to provide the evidence to STL to support his claim. Hezbollah and its March 8 allies have been calling for the abolition of STL.
Some leaders are concerned that should the court indict Hezbollah members, it could lead to the re-occurrence of events similar to the May 2008 (events), when Hezbollah occupied the western part of Beirut and tried but failed to occupy the Druze stronghold of Mt lebanon
The Pro Syrian Al Akhbar newspaper reported last week that Hezbollah has prepared a plan to take over Lebanon when STL issues its indictment for the 2005 murder of former Prime Minister Rafik Hariri.
Nasrallah said in his speech last Thursday that Hezbollah will not allow the arrest of any of its members if indicted by STL : "Any hand that will touch any of them will be cut off, " he said
On October 28, he called on all Lebanese to boycott the STL and to end cooperation with its investigators.