Editorial: Stop the Christian exodus from Muslim countries
One of the most important duties for our scholars, preachers, and intellectuals, is to denounce crimes committed by Al Qaeda against Christian churches.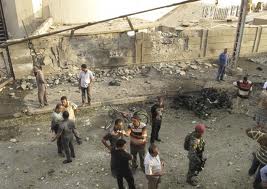 By Dr. Hamad Al-Majid*
The attack on the Church of Our Lady of Salvation in Iraq not only caused murder and destruction, but it has led to wider religious, humanitarian, and legal turmoil. Among those primarily affected by this reckless Al Qaeda attack have been the advocates of a moderate, tolerant Islam, as was the case in the aftermath of the 9/11 atrocities. After 9/11, calls for moderate Islam declined significantly, and hundreds of Islamic institutions were closed. Furthermore, a large number of preachers lost their funding, and thousands of orphans and widows, who were being supported by such institutions, were displaced.
Al Qaeda's horrific attack against the Church of Our Lady of Salvation in Iraq represents a self-inflicted blow for the organization. The noose around its neck has subsequently tightened in a number of countries, including Saudi Arabia. Even when Al Qaeda focussed its rhetoric on 'resisting America' and 'targeting Americans', this failed to resonate with a segment of their religiously indoctrinated youth. Nevertheless there was little opposition to this rhetoric from within, with members following the principle of "I do not support this, but it does not affect me." Yet Al Qaeda was soon exposed as merely a brutal force, with a skewed ideology, when it began to target Saudi Arabian economic institutions. The terrorist group launched an attack on the entire Saudi security network, firstly by targeting its head office, and then later attempting to assassinate one of its key figures, Saudi Assistant Interior Minister for Security Affairs, Prince Muhammad bin Naif. Whilst people became aware of Al Qaeda, they soon became disillusioned with its methods, and were not convinced by its ideology, except for fools with questionable intellect.
The Iraqi branch of Al Qaeda attempted to justify its attack on the Iraqi Church, by suggesting it was a response to an earlier incident, whereby two [Christian] women, who had reportedly converted to Islam, had subsequently been abducted by a Church [in Egypt]. If we accept such a justification, then hypothetically we must also accept a British right-wing group attacking a mosque in London, causing a massacre, in support of two Muslim women converting to Christianity, and then being detained in an Islamic institution in France. What a nonsensical pretext! What is this twisted logic? This is the shame that Al Qaeda has brought to our religion, and into the minds of its followers.
One of the most important duties for our scholars, preachers, and intellectuals, who are interested in Islamic affairs, is to raise their voices to denounce such unprovoked crimes committed by Al Qaeda against Christian churches and Shiites. This should be equivalent to our condemnation of aggressive attacks against mosques and Sunni centres, committed by some Shiite extremists, or radical Christian groups. The language of condemnation should also be strong, clear and unequivocal, because when Al Qaeda commits such crimes, it distorts the image of Islam and Muslims everywhere. We should suffocate them intellectually, and free ourselves from their heinous acts. Silence, or even the mild language that confronted Al Qaeda's crimes in some Muslim countries in the 1990s, has helped, along with other factors, to prolong the influence of this poisonous ideology. No scholars or preachers have so far been able to stop Al Qaeda intellectually, and systematically isolate them, whether in the official public arena, or in the private domain.
In order to confront this radical trend, we can also consider a number of quotes from historical religious figures, whom Al Qaeda has tried to transform into champions of its ideology. One such figure was Sheikh al-Islam Ibn Taymiyyah, who once famously said "the people under our protection come before the people of our own religion". This was in response to the [invading] Tartars, who had captured both Muslims and Christians [in the Mongol invasion of Damascus]. Sultan Qalawun brought both sets of prisoners, in order to negotiate with the Sheikh, and offered to release the Muslims, whilst retaining the Christians. However Ibn Taymiyyah responded with his famous retort and this represents an air of wisdom that Al Qaeda's criminals certainly lack.
*Dr. Hamad Al-Majid is a journalist and former member of the official Saudi National Organization for Human Rights. Al-Majid is a graduate of Imam