Aoun: Hezbollah might violently respond to STL indictment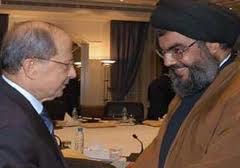 Free Patriotic Movement leader MP Michel Aoun continued with his scare tactics campaign and said on Wednesday that Hezbollah might violently respond to a Special Tribunal for Lebanon (STL) indictment that accuses some of the party's members for the 2005 assassination of former Prime Minister Rafik Hariri.
During a meeting with the Diplomatic Press Association in Paris, Aoun who is closely allied with the Iranian and Syrian backed militant group warned that "Hezbollah's reaction will be more violent because it is innocent."
Observers on the other hand believe that if Hezbollah was truly innocent it will not be leading such a campaign of scare tactics.
"No one should play with fire. Those who consider themselves to be innocent might ignite a crisis that takes a military form," the FPM leader said and added "no one rejects the tribunal." He noted that he was "one of the first people to call for the setting up of the STL."
The FPM leader also condemned the international investigation into the Rafik Hariri murder for focusing on Syria's involvement alone, asking "why Israel has been left out of the investigation when it is the only country with a specialized unit in political assassinations?"
The MP also said that "false witnesses" manipulated the investigation and added: "Investigators have overlooked this course, which, in our opinion, would have enabled them of discovering the real criminals, and this thing had led us to question the tribunal's transparency."
Asked whether Hezbollah had the right to "blackmail all Lebanese over the issue of the STL," Aoun said: "Up till now, no verdict has been issued against Hezbollah, so now it is defending itself and its innocence."
Aoun who was reportedly ignored by the former French president Jacques Chirac during his exile in France said " Chirac had reduced the margin of communication between the Lebanese and the French, limiting the relation between the two countries to the personal relation between him and former PM Rafik Hariri."
Tension escalated in Lebanon following reports that the Special Tribunal for Lebanon will soon issue its indictment into the 2005 assassination of Lebanon's former Prime Minister Rafik Hariri. Last July, the Hezbollah chief said that the tribunal is "an Israeli project" that will indict Hezbollah members. Sayyed Hassan Nasrallah accused Israel of being behind Hariri's assassination but refused to provide the evidence to STL to support his claim. Hezbollah and its March 8 allies have been calling for the abolition of STL.
Some leaders are concerned that should the court indict Hezbollah members, it could lead to a Shiite-Sunni strife, others aren't as worried and see this as a desperate attempt by Hezbollah to intimidate and scare the Lebanese and specially PM Saad Hariri .
The Pro Syrian Al Akhbar newspaper reported last week that Hezbollah has prepared a plan to take over Lebanon when STL issues its indictment for the 2005 murder of former Prime Minister Rafik Hariri.
Nasrallah said in his speech last Thursday that Hezbollah will not allow the arrest of any of its members if indicted by STL : "Any hand that will touch any of them will be cut off, " he said
On October 28, he called on all Lebanese to boycott the STL and to end cooperation with its investigators.