Iraq president won't sign Aziz's death sentence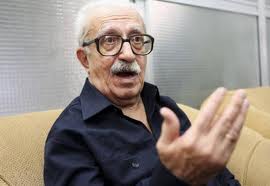 Iraq's president said Wednesday that he would not sign an execution order for the foreign minister in Saddam Hussein's government, who was sentenced to death last month.
"I will not sign Tariq Aziz's death sentence," Jalal Talabani told France 24 television during a visit to Paris for the Socialist International meeting. "I will sign no death sentence at all, because as a social democrat, I'm against the death penalty."
The statement by Talabani, who was reelected to the presidency last week, followed calls by the Vatican and Russia to halt the execution on humanitarian grounds. Aziz, 74, is in poor health. He was the most senior Christian official in Hussein's predominantly Sunni government, as well as its international face.
Talabani, a Kurd, told the French news channel that he "sympathized" with Aziz "because he is an Iraqi Christian."
Moreover," Talabani said, "he is an old man who is over 70."
The president's stand did not come as a surprise and may not prevent the controversial execution. During Talabani's earlier tenure as president, he never signed off on a death sentence, but Iraqi authorities nevertheless hanged several senior members of the former government, including Hussein.
Aziz was sentenced Oct. 26 by a special tribunal set up after the U.S.-led invasion in 2003 to prosecute senior members of Hussein's government. He was convicted of persecuting members of Shiite political parties, including Prime Minister Nouri al-Maliki's Dawa party.
Ziad Tariq Aziz, Aziz's son, said in a phone interview that the family has not heard from him in more than a month and is not sure whether his court-appointed attorney has filed an appeal, which must be done within 30 days of sentencing. The family does not have a lawyer in Baghdad.
The sentence, which Aziz's family and attorney have described as politically motivated, came amid an impasse as Iraqi politicians jockeyed for positions in a new government. The presiding judge had run unsuccessfully for parliament on a promise to "humiliate the tyrants," a reference to Hussein's government.
"We hope Talabani insists that he will not sign and that he will push the others to stop this killing of people from here and there," Ziad Tariq Aziz said. "As a family, we thank Mr. Talabani, and we want him to go to the end with this."
Aziz, an Assyrian Christian born outside Mosul, was among the first to turn himself in to U.S. forces in April 2003. He was transferred to Iraqi custody in July. Washington Post