Geagea: Unfortunately we cannot live a normal life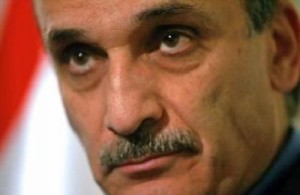 Lebanese Forces (LF) leader Samir Geagea said on Wednesday:"Some in Lebanon insist on confronting global arrogance, but we yearn to live a normal life," and urged "those who are confronting global arrogance to stop their arrogance on us, " according to an LF statement.
"Unfortunately we cannot live a normal life , because of the persistence of those who insist on this confrontation despite the fact hat they have no right to drag others into it," Geagea said while meeting with a student delegation from the Lebanese American University in Jbeil.
Such confrontation would be for great states with abilities equal to the task, but " Lebanon is one of the smallest countries in the world in terms of primary resources ", he added.
Those supporting confrontation should "free us from their arrogance before disposing of global arrogance," he said.
"Our real battle is confronting poverty, ignorance, inequality, and harm to the environment." Geagea stressed.
Geagea's comments are understood to be in reference to the Iranian and Syrian backed Hezbollah which has launched a campaign against the Special Tribunal for Lebanon (STL)
Tension escalated in Lebanon following reports that the Special Tribunal for Lebanon will soon issue its indictment into the 2005 assassination of Lebanon's former Prime Minister Rafik Hariri. Last July, the Hezbollah chief said that the tribunal is "an Israeli project" that will indict Hezbollah members. Sayyed Hassan Nasrallah accused Israel of being behind Hariri's assassination but refused to provide the evidence to STL to support his claim. Hezbollah and its March 8 allies have been calling for the abolition of STL.
Some leaders are concerned that should the court indict Hezbollah members, it could lead to a Shiite-Sunni strife, others aren't as worried and see this as a desperate intimidation by Hezbollah against truth and justice that will only lead to more damages to its image in both Lebanon and the entire region.
Al Akhbar newspaper reported last week that Hezbollah has prepared a plan to take over Lebanon when STL issues its indictment for the 2005 murder of former Prime Minister Rafik Hariri.
Nasrallah said in his speech last Thursday that Hezbollah will not allow the arrest of any of its members if indicted by STL : "Any hand that will touch any of them will be cut off, " he said
On October 28, he called on all Lebanese to boycott the STL and to end cooperation with its investigators.