Berri: Sectarianism is eating the country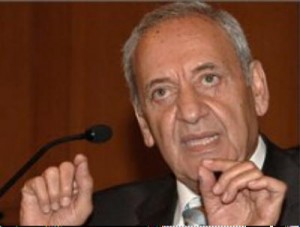 Speaker Nabih Berri told An-Nahar newspaper in an interview published Saturday that Lebanon cannot rise without eliminating political sectarianism and stressed that sectarianism is eating the country.
Berri said that Lebanon will not be revived until political sectarianism is abolished.
"We should act and confront this monster before it's too late," the house speaker added.
Taef Accord
Berri also rejected the suggestions regarding the three-way power sharing system between Shia, Sunnis and Christians, and stressed the importance of "comprehensively" implementing all the articles of the Taif Accord , in order to eliminate sectarianism in Lebanon.
This comes after Hezbollah leader Sayyed Hassan said in his speech last Thursday that France suggested dividing Lebanese shares between Christians, Sunnis and Shiites instead of equal Christian-Muslim shares.
Nasrallah said that "the French talked with the Iranians about the importance of reevaluating the Taef Accord, suggesting the idea of tripartite power-sharing in Lebanon."
France on Friday denied that its foreign minister Bernard Kouchner had raised the issue of amending the Taef Accord with the Lebanese officials he met during his latest visit to Beirut.
French foreign ministry spokesman Bernard Valero noted that "the aim of Kouchner's visit to Lebanon was to reiterate France's support for the Lebanese state institutions and the national unity government headed by PM Saad Hariri."
false witnesses /STL
The speaker also voiced surprise over talks of transferring the "false witnesses" issue to a parliamentary commission and asked how a case that falls within the juridical jurisdictions can be transferred to the parliament.
In another interview with Ad-Diyar newspaper, also published Saturday, the speaker said that he informed French President Nicolas Sarkozy that the Special Tribunal for Lebanon (STL) is not constitutional.
The speaker visited Paris in October where he held meetings with the country's top officials.
According to Berri, there is a political solution, not a constitutional solution, to the issues surrounding the STL. "The political solution in Lebanon is based on Syria's agreement with Saudi Arabia. The Lebanese have run out of solutions in Lebanon." He said
Responding to a suggestion that 10 MPs want to submit a petition to the parliament that presents a solution, Berri said, "This is not constitutional… The parliament has not approved that the tribunal is constitutional."
March 8 politicians have called for the cabinet to ask the Judicial Council to investigate the issue of witnesses who gave unreliable testimonies to the investigation of former Prime Minister Rafik Hariri's 2005 assassination, but March 14 leaders have said that the regular judiciary should handle the matter