March 8 ministers reject Suleiman's proposal – update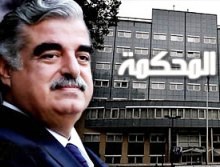 The Lebanese cabinet is currently meeting to discuss the issue of the false witnesses. The Hezbollah led March 8 ministers have reportedly rejected President Michel Suleiman's proposal to form a parliamentary commission to settle the issue , according to MTV and insisted that the matter be put to a vote.
Suleiman who held a closed meeting with PM Saad Hariri prior to the session also suggested that any cabinet vote on the issue be postponed until after the Eid al-Adha holiday, MTV reported.
The station added that a March 14 minister proposed suspending cabinet sessions until a consensus agreement can be reached on the matter.
Hezbollah's Al-Manar TV reported that PM Hariri told the Cabinet:" The false witnesses issue must be resolved politically, and in case you want to vote, there are many dangerous issues — which had also ruined the relation with Syria — that need to be put to a vote."
Speaker Nabih Berri's NBN TV reported that the Cabinet session won't reach any decision today on the issue of false witnesses
The station also reported that Public Works and Transport Minister Ghazi Aridi is expected to demand the suspension of cabinet sessions until a solution on the issue is reached.
March 8 politicians have called for the cabinet to ask the Judicial Council to investigate the issue of witnesses who gave unreliable testimonies to the investigators of former Prime Minister Rafik Hariri's 2005 assassination. However, March 14 leaders have said that the regular judiciary should handle the matter.
Update: MTV reported that a consensus has been reached on postponing a cabinet vote on the false witnesses issue to a later session until after Eid al-Adha as proposed by president Suleiman
Al-Manar reported that opposition ministers insisted on keeping the false witnesses issue at the top of the agenda of any upcoming cabinet session.
Al-Manar also reported that Prime Minister Saad Hariri said during the cabinet session that if March 8 insists on a vote on the "false witnesses" issue, "there will be a vote on other issues."
The station said that Hariri used a threatening tone and called the issue "political, and not judicial."