France considering meetings between Sarkozy, Lebanese officials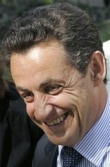 Former Lebanese president and Phalange Party leader Amin Gemayel told An-Nahar newspaper in an interview published Sunday that France is looking into the possibility of scheduling meetings between French President Nicolas Sarkozy and Lebanese officials.
"There is no invitation, but France is considering the possibility of holding meetings at the highest level between President Sarkozy and some Lebanese officials," Gemayel said
Gemayel who met on Saturday with French Foreign Minister Bernard Kouchner also told the newspaper that he was told by the visiting French official that France has nothing to do with the international investigators for the Special Tribunal for Lebanon (STL) and does not know the content or timing of the STL's impending indictment.
Kouchner who arrived in Lebanon on Friday for a two-day official visit said during a press conference in Beirut on Saturday that "no one can influence the international justice process," in a reference to STL . Kouchner also said that he visited Beirut to reiterate his country's support for Lebanon and STL.
Tension escalated in Lebanon following reports that the Special Tribunal for Lebanon will soon issue its indictment into the 2005 assassination of Lebanon's former Prime Minister Rafik Hariri. Last July, Hezbollah Secretary General Sayyed Hassan Nasrallah said that the tribunal is "an Israeli project" that will indict Hezbollah members. Nasrallah accused Israel of being behind Hariri's assassination but refused to provide the evidence to STL to support his claim. Hezbollah and its March 8 allies have been calling for the abolition of STL.
Some leaders are concerned that should the court indict Hezbollah members, it could lead to a Shiite-Sunni strife.
Al Akhbar newspaper reported earlier in the week that Hezbollah has prepared a plan to take over Lebanon when STL issues its indictment for the 2005 murder of former Prime Minister Rafik Hariri.