March 8 leaders, Jumblatt boycott the dialogue talks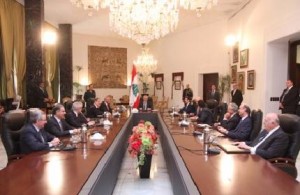 National dialogue talks were held today at the Baabda palace in the absence of March 8 leaders and MP Walid Jumblatt.
As in the past the the talks were chaired by President Michel Suleiman
The March 8 decided to boycott dialogue after PM Saad Hariri postponed the cabinet session that was set to discuss the so called 'false witnesses' issue.
Speaker Nabih Berri, a key Hezbollah ally, attended the talks but told reporters that he took part in the talks in his capacity as Parliament Speaker.
The talks were supposed to address the national defense issue
The next session was scheduled for Nov 22
Prime Minister Saad Hariri who attended the talks held a meeting
with Suleiman and Berri prior and after the session
Lebanese Forces leader Samir Geagea who attended the talks said in response to a question regarding the absence of Free Patriotic Movement leader Michel Aoun from the meeting: "Aoun is relying on me."
Hariri told reporters upon arrival at the Baabda palace "those who failed to show up today for the dialogue talks are losers." As he was leaving Baabda Palace,he told reporters that he regretted the absence of party leaders "from the talks that were set to discuss the defense strategy and Israeli threats."
The last dialogue session was held in August, following which the committee agreed to continue studying the national defense strategy.