Hezbollah warns of an explosion if its members are indicted by STL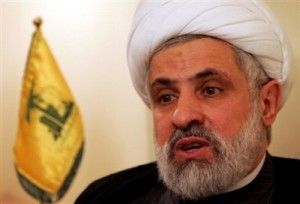 Sheikh Naim Qassem, deputy of Hezbollah chief Sayyed Hassan Nasrallah warned on Tuesday of the risks of an explosion in Lebanon if members of his party are indicted by Special Tribunal for Lebanon in the assassination of for former Lebanese premier Rafik Hariri.
"We cannot disclose what we might do if the indictment accuses members of Hezbollah," Qassem told BBC in an interview, a transcript of which was distributed by Hezbollah.
"The options are many and it depends on the circumstances at that time," he added.
"What we do know is that such an indictment is a warning bell equivalent to lighting the fuse, to igniting the wick for an explosion, and is dangerous for Lebanon."
Qassem's statement is a possible confirmation of al-Sharq al-Awsat's report that the Islamist group has been in contact with Shiite group Amal and pro-Syrian organizations in Lebanon in order to set a plan to seize control of the country after the court's ruling.
The pro-Syrian Al-Akhbar newspaper a;lso reported on Monday that Hezbollah has prepared a plan to take over Lebanon when the Special Tribunal for Lebanon (STL) issues its indictment for the 2005 murder of former Prime Minister Rafik Hariri.
March 14 MP Okab Sakr urged Hezbollah on Monday to clarify its stance over the Al-Akhbar article. According to observers Qassem's remarks to BBC confirm the Al-Akhbar article .
According to al Akhbar , hours before the issuance of the STL indictment, Hezbollah plans on deploying security and political forces in large numbers
Al Akhbar said Hezbollah plan targets, major cities ( including the capital, suburbs, Kesrouan and North Lebanon towns) and several centers ( seaports, airports and border crossings) in Lebanon in addition to locating and arresting political, military and security officials. The plan also includes locating and arresting the officials that Syria had issued arrest warrants against "in order to curtail their movement and get hold of major cities in Lebanon."
Last week, Nasrallah called on the Lebanese people not to cooperate with STL investigators after they visited a gynecological clinic in the Dhahyia ( a Hezbollah stronghold ) and were attacked by 150 women who snatched one of their cases containing investigation materials.