Sfeir: Lebanon should be for all sects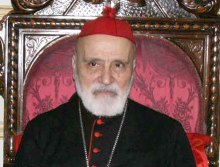 Lebanon's Maronite Patriarch Nasrallah Sfeir told Al-Jazeera television on Saturday: "If we want to put an end to political assassinations in Lebanon then the international tribunal should issue its indictment and be specific naming those who committed the crime."
"If we want matters to continue as they are, then the assassinations will continue, which would harm Lebanon and other nations as well," he added.
He is referring to statements that the special Tribunal for Lebanon ( STL) may not announce the names of those that will be indicted
Asked whether he believes that Hezbollah wants to control Lebanon, Sfeir responded with a denial, but noted: "Its methods are forceful and of course, force leads to power."
He added : It will "worrisome" if Hezbollah were to take control of Lebanon, saying: "Lebanon should remain as it was, for all its sects … and if one were to overpower the others, then that would go against the foundations upon which Lebanon is built."
Asked if he is planning on visiting Syria, Sfeir said that once the conditions are appropriate then he would plan on visiting , but added :"So far it does not appear that relations between Lebanon and Syria are sound because one country is trying to take advantage of the other, which the Lebanese people oppose."
"If Syria wants to befriend Lebanon in order to control it then we do not want this friendship," he added.
Tension escalated in Lebanon following reports that the Special Tribunal for Lebanon will soon issue its indictment into the 2005 assassination of Lebanon's former Prime Minister Rafik Hariri. Last July, Hezbollah Secretary General Sayyed Hassan Nasrallah said that the tribunal is "an Israeli project" that will indict Hezbollah members. Nasrallah accused Israel of being behind Hariri's assassination but refused to provide the evidence to STL to support his claim. Hezbollah and its March 8 allies have been calling for the abolition of STL.
Some leaders are concerned that should the court indict Hezbollah members, it could lead to a Shiite-Sunni strife, but others disagree since Hezbollah and its allies the Syrian backed Palestinian militants are the only armed militias in Lebanon.
In his speech last Thursday Hezbollah chief Sayyed Hassan Nasrallah
called on "every official and every citizen to boycott the work of U.N. investigators" probing the murder of former Lebanese PM Rafik Hariri.