Lebanon crisis: Qatar ready to mediate, says Emir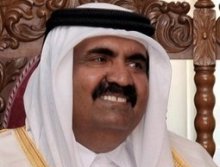 Emir of Qatar, Sheikh Hamad bin Khalifa al-Thani told the Financial Times, during an interview in Doha that the "situation in Lebanon will continue like this and that the politicians in Lebanon , tend to exaggerate things, but they have the good intentions and the willingness, Qatar is ready and willing to mediate like it did in 2008 .
Here is the interview transcript with Qatar's Sheikh Hamad
Martin Dickson, deputy editor of the Financial Times, and Roula Khalaf, Middle East editor, interviewed the Emir of Qatar, Sheikh Hamad bin Khalifa al-Thani, in Doha. Here is a transcript of the interview.
Financial Times: Your Highness, Gulf states in general are all developing rapidly, but what distinguishes Qatar from the other states? What makes you and your policies special?
Sheikh Hamad: I think every country has its own special situation and peculiarities. We, in Qatar, focus our attention on education, on health reform, and also investment both internally and externally. We try and stay away from arming and army issues. We are a peace loving nation: our aim is always to live in peace and do away with conflict. We are always ready and prepared to play a mediating role in any conflict… This is what we focus our attentions on. It is important to note that when it comes to mediation the parties involved in conflicts come to us; they approach us and they ask us to play this role for what they know of our being on the neutral side. We do not take any sides in conflicts.
FT: If we just, for a moment, focus on development in Qatar. Your gas projects, the investments you've put in, are all coming on stream now; this is why you are having a massive boost in revenues. But what is the next big thing once all of this happens? What is the next big idea that Qatar has?
SH: We focus our attention on sustainable development, which is based on a vision with the main pillars being human development, economic development, on environmental development and so on and so forth. And this is what we are focusing on now, until 77 million tonne barrier (of gas) is overcome; then we will take planning from thereon.
FT: What about the moratorium on gas export contracts which expires in 2013. Will that moratorium be extended?
SH: My concern now is how to invest both internally and externally towards the benefit of our future generations. An example for what we're doing as far as health and education sectors: we are establishing endowments for both education and health, so that in the future they will be self reliant and independent; they will not require any financial aid from the state; they will pay for their own projects.
We allocate 1,000 million for education at the end of the year, we allow them to spend 800 million on their projects, and keep 200 million as a reserve to enhance the endowment itself for future use. And we are extending this project to include culture and even sport; we are allocating endowments for them.
In the past, Qatar used to be famous for its pearl hunting activities, but when the Japanese invented artificial pearls, so to speak, this caused a lot of poverty and deprivation in Qatar. But fortunately there were oil companies active in the area like (Saudi oil company) Aramco, and oil companies in Kuwait and Bahrain, and this enabled Qataris to go to these countries and seek ways to earn a living.
But it is unfortunate now, with hindsight, that we did not benefit from this experience when it was alive and well and going well for us. I mean, when we discovered oil we didn't learn from what happened during the pearl time – that we risked becoming poor. Fortunately we had the oil, and the country was going slowly, slowly. Then in 1973 the war between Israel and Syria and Egypt broke out and the price of oil reached $13, and suddenly we found ourselves here in paradise: money everywhere, everywhere. We didn't try to make a good reserve or a good plan to keep part of this money for the future.
Then it (this trend) continued and we had the war between Iraq and Iran …I cannot say we were lucky because of this war, but then the price of oil went up again. And then it went down again. And then Iraq invaded Kuwait and it went up again. And then it went down, and we were asking money from the banks. Actually I remember this very well.
So now we plan to save money for the future of our generations, and to make sure that we secure them, as I mentioned to you, for education, for health, culture, museums, sports; to make sure that we have money for the future and that the standard of living can continue as it is. We are investing everywhere. Even your Harrods, we took it…
FT: But are these the sorts of investments that will create jobs in Qatar? What do you imagine Qataris working in, which fields?
SH: What I think will bring jobs to the Qataris is when they have a good education. That is why we are pushing for a good education. We believe this is a resource worthy for the Qataris; so they will be able to go into every branch. That is why we are having American universities giving the same degree they give in the United States. And we are discussing the Arab language, whether it is going to disappear or not. And in fact we are proud of our language, of our culture; but sometimes, especially for the secondary schools, for the students who want to join these universities, they have to learn the English language if they want to join these universities; although we have other different languages (taught in schools), like French, Italian, German, Japanese.
FT: But some places in the region are emphasising particular industries, such as in Dubai it is transport and tourism; are there any particular industries you feel Qatar should focus on to diversify?
SH: We are rich with hydrocarbons. We are trying to build industries around hydrocarbons, like aluminium, petrochemicals and others. Even around these industries, we are going to build another chain of small factories. We are concentrating more on light and medium industries. We are trying to attract companies from outside to invest here in Qatar, whether with the Qatar Investment Authority [the sovereign wealth fund] or with the private sector.
FT: Are you considering giving citizenship to foreigners who have been here for a long time? You have a small local population in Qatar and many expatriates, and this at times gives rise to tensions between locals and expatriates.
SH: We give citizenship, but the mass of foreigners normally they come with companies to do projects and then they go. They come for a certain period. But we give passports. As you know, we are a (Muslim) society and we have given passports for Christians.
FT: But is there a policy aimed at increasing the size of the local population by granting more passports?
SH: A policy to increase the population, we don't have this actually. But we give (citizenship) for the people first who apply and who fulfil our own regulations. Until now there are not many who are asking. But people who ask have to go through the regulations, the law of the country.
FT: Is the small small size of the citizenship a concern for you?
SH: Actually for a long time we have been a small number. But gradually we are increasing, as Qatari, as people having passports.
FT: What is Qatar's strategy when it comes to foreign investments? The Qatar Investment Authority (QIA) has invested in various assets and London seems to be a favourite destination.
SH: As I told you in the beginning we are trying to make sure that for our generations, after the hydrocarbon period, that they have good wealth to run the country. Of course we invested in London. London is a very important capital for real estate. But actually we are investing in other countries. Our policy is to have strategic investment with parties on a win-win (basis). We are not going to invest and the price goes up (and we get out); we say we want to continue the investment.
FT: What's the attraction of London?
SH: London for real estate is the most important capital, because real estate in London may get sick but it doesn't die. This is well known for us.
FT: You do not seem to have invested, at least in public, so much in either the US, or in Asian countries, China or India.
SH: We are investing in China. We are investing in a big deal with China, with India, Taiwan and Japan. Actually we are going anywhere anybody has good projects and approaches us; we will study it and go, as I told you, on a win-win (basis). We are trying to create a Qatari standard: you want us to deal with you, this is our standard; you win, we win, and we go for the long term.
FT: I've heard from bankers who try to interest you in deals that you are considering investing as much as $20bn abroad every year from now on. Does that sound like a reasonable figure?
SH: First of all we try to invest inside. As to what is left, I wish we could reach $20bn, that would be a good sum, but what is left … the surplus… we will invest outside.
FT: What is the allocation of the QIA on a yearly basis?
SH: There is no certain number, because, as you know, we are hydrocarbons country so the price goes up and the price goes down. And it depends on how many projects we have inside. For example, if we could win the bid to host the World Cup 2022, that would mean that a lot of money has to be invested inside the country.
FT: You are going to London next week and a lot of people will be watching to see which assets you might still be interested in buying. Are you looking at anything specific in London at this time?
SH: The question could be in London or any place. We are searching for good opportunities. And London, as I told you, real estate is the best.
FT: But Qatar has also been buying trophy assets; you like big names like Harrods.
SH: No. If we were going to search for big names why would we go into other countries that are not big names? We are investing everywhere. But of course, if we would have a good opportunity with a good name, so be it.
FT: Like Christie's, the auction house, are you thinking about bidding for that?
SH: Christie's, yes, I think we are, because we are building a museum and it has links with the stuff we are collecting for our museum.
FT: Have you made a bid?
SH: Not yet.
FT: But you are you thinking about it?
SH: It depends on the opportunity. If we had a good opportunity we would not hesitate. But thank you for reminding me about Christie's!
FT: You need a willing seller.
SH: Yes, exactly.
FT: You don't know yet if you have a willing seller?
SH: For now I don't know.
FT: what else would you like to own?
SH: For me it depends what comes into my mind, what I see on the television or in the news; because this is how humans think. Of course, I would like a good thing which would help our coming generations.
FT: That there was a lot of controversy over the intervention of Prince Charles in the development plans for Chelsea Barracks. Can you tell us what went on there and how you felt about it?
SH: Well, this is a British issue. But for us as investors we have to avoid this conflict first; and second we have to do what we think is the best for our reputation in Britain. And that is how it happened. Now I think that technically they have solved this problem.
FT: Yes, but you lost a bit of money on it.
SH: Well, unfortunately this is normal; such a thing could happen. But the main thing is we are defending our reputation.
FT: So when you are investing overseas do you worry about a possible backlash?
SH: No, because I'm sure in Britain they want us to invest instead of others. We are a small country, we are a peaceful country; we will not bother Britain at all.
FT: Do you take any lessons from your experience with Sainsbury where, again, there was an attempted bid which didn't come off, and there was a lot of criticism afterwards? Did you learn from that experience?
SH: From any failure we are learning, for sure. And Sainsbury was going well, but because of what happened in America with the real estate loans going down, everything started to collapse. But I must say, Sainsbury is a good company.
FT: You would still be interested in it?
SH: Everybody is interested in Sainsbury; but everybody wants the right price.
FT: How involved are you personally in the investment decisions?
SH: I rely on the advice on experts to assess and evaluate any project, and present the options. Then depending on that a decision is reached, so based on this advice and recommendations…
FT: But do you give some ideas also, do you ask the QIA to look at this or that investment?
SH: If I have an idea, yes, I tell them I am thinking about this. But they are not obliged to do what I want. The main thing is that they have to do our strategy, how to find the best things which would help the future of our generation. This is clear. If I want anything for myself this is different. It might be sort of gambling; if I lose, I lose myself. But this money (the investment funds money) no, this should be for the generations.
FT: We understand that you and your children might be setting up a separate vehicle to separately from the QIA?
SH: This is normal – as a wealthy family we have a family institution. It is normal for a wealthy family to seek opportunities for investment. There is a private vehicle for us.
FT: There has been a rumour in the region that you are interested in buying the National Bank of Kuwait.
SH: No, not me, for sure. If there is something like this it should be through the Qatar Investment Authority … But they didn't tell me about it, they never told me that they are interested in it. But these investment authorities are talking with everybody, and everybody comes to talk to them. So, you will hear a lot, you will hear a lot for sure.
FT: could we move on to geopolitics and perhaps just start with your speech at the United Nations where you were critical of the Americans and their position vis-à-vis the Middle East in general, and Iran in particular, and you were calling for a dialogue.
SH: Since 1979 (the Iranian revolution) I have lived here, and I know the crises that happened in the Gulf … with the war between Iran and Iraq (in the 1980s), with Iraq invading Kuwait (in 1990) and with America invading Iraq (in 2003).
The question now is that we want to see peace in our region but how will this peace come?
It will not come as the superpower thinks, because sometimes it makes the wrong decision.
As a neighbour to Iran, and we have lived with Iranians for a long time together, we believe that the best thing is dialogue. The Americans should speak with Iran. The Iranians are all the time mentioning that their nuclear (programme) is there for peaceful purposes. What is the role of the United Nations, the Security Council? They should go and check this.
Plus you have the Israelis who have the most dangerous weapons, the nuclear weapons. I really wish to see no more nuclear weapons in our region. We need to see peace.
FT: But US President Barack Obama tried to engage with Iran but it was not responsive.
SH: But that doesn't mean he can't try again. And some other countries who have good links with Iran why are they not talking to the Iranians and the Americans?
FT: The international policy of sanctions against Iran appears to be working – UN sanctions, and US and European unilateral sanctions. What is Qatar's position on sanctions and do you abide by UN as well as unilateral sanctions?
SH: I think all these sanctions will not help. You remember what happened to Cuba: Cuba was under sanctions for 50 or 60 years, and in spite of this Cuba had the best education and the best health services in the whole of Latin America. Iran is a big and great country, surrounded with many countries. Somebody thinks sanctions will affect Iran. OK, it will affect it in some (way) but the question is do we want Iran to cooperate with the world and with world regulations or do we want to push Iran into a corner?
FT: As a neighbour to Iran you either implement the sanctions or you isolate Tehran more; What are your instructions to Qatari banks, to Qatari business, is it to stop dealing with Iran or is it to keep business lines open in order not to isolate Iran?
SH: I can't tell you. Iran is so close to us. I hope no sanctions come near Iran. I hope the Iranians live like the others.
FT: But what are you telling your banks, what are you telling your business people?
SH: We are free in our country to implement the kind of decisions that we see fit and that go along with our interests. We want and we seek dialogue. We think dialogue is the best way to solve this and many other conflicts.
FT: What would Qatar do in the event of an Israeli attack against Iran's nuclear facilities or an American attack, given that you host a US military base?
SH: We are against this.
FT: So the US would not be able to use their base in Qatar?
SH: No. According to the agreement between us and the United States, they have to ask us, and with Iran, we will not accept this. But of course, we have military ties with the British and with the French also, not only with America.
FT: Do you want the American base to remain in Qatar?
SH: As a small country, we have a good relation with the Americans, in terms of military ties, education, health, but as you know, politically, no, we don't have that good a relationship. But we are happy with their presence.
FT: The US base offers you some security and you are not arming yourself as much as others in the region. Is this likely to remain the policy?
SH: As I told you in the beginning we are avoiding armament and trying to avoid spending our money on arms. But if you think this American presence helps us in this direction, we also have agreements and good relations with the British, with the French, and other nations too.
FT: are you looking to expand your defence agreements with the British and the French to diversify security reliance more from the Americans?
SH: I don't see this as being a necessity, because the relations Qatar enjoys with all countries are good and strong.
FT: That brings us to the question about Qatar's friendships with a lot of countries and groups, the US, Israel (which had a trade office in Qatar that was closed two years ago during the Israeli offensive against the Gaza Strip) and their enemies.
SH: It is right that we have good relations because we are supporting peace. But in the Gaza war the Israelis refused to allow us to send mobile hospitals to Gaza and we were seeing the children being killed and they didn't allow us to send food. We told them, we are the only country in the Gulf where you have your office and you should treat us better.
FT: But you manage to have good relations with the Americans, but also with (Lebanese militant group) Hizbollah and (the Palestinian) Hamas. Some people would say you are always hedging your bets and you're friends with too many people at the same time.
SH: Well, sometimes for small countries, you know, you have to, but our policy is to be friendly with everybody … We are looking for peace, and it doesn't mean if two parties turn against each other we have to go to one party, no; we would like to stick with the two parties.
FT: Which brings us to the Lebanon peace deal you brokered in 2008.
SH: Exactly, what happened in Lebanon. The March 14 forces, the Hariri bloc, thought we are with Hizbollah because in the past we had difference with the Saudis. But then they discovered that this was not true and they came here to Qatar and we succeeded in solving their problem.
And if you look at Darfur, I was watching Al-Jazeera one time, and they found one of the Darfur representatives saying we only accept the mediation of Qatar, not the Arab League.
FT: In Lebanon you succeeded in calming the situation for two years but now there are renewed problems. How worried are you and what are you expecting?
SH: The situation in Lebanon will continue like this. Life there in Lebanon, the politicians, they … tend to exaggerate things, you know inflate things. If they have the good intentions and the willingness, and they require us to mediate, of course we will.
FT: But are you worried about what's going on, about the divisions over the Special Tribunal (which is set to try the perpetrators of the 2005 killers of Rafiq Hariri, the former prime minister)?
SH: We have to wait and see. It's hard to answer now… It's really hard to answer now. The only thing is: are the Lebanese ready for more bloodshed and for pulling the Arabs with them? This is something they have to answer themselves. There's a general perception, a feeling in the Arab world that Israel is trying to do something to … engage the Lebanese inside Lebanon, turn them against each other. And the Lebanese they are ready for this. This is the problem. Historically, the Lebanese are always asking outside to help them as parties inside their own country.
FT: Moving on to the Middle East peace process: the US re-launched peace talks between Israelis and Palestinians over a month ago and four weeks later the parties face a problem. What do you make of the way the US has handled this?
SH: Well, I really appreciate the role of President [Barack] Obama. I believe he wants to see peace, but I think he should be more aggressive for peace.
FT: In what way?
SH: He should speak frankly to the Israelis. The Americans should tell the Israelis that they have to do something to achieve peace in the Middle East. And the Americans should tell them that we are not going to follow you. We have other friends in the region and they are suffering because of your decisions against the Palestinians.
I give you my example as Qatar. We are so close to America, but this issue could cause a big problem, you know? I mean, I am a leader; what shall I tell my people? That the Americans are right to support the Israelis against the Palestinians?
FT: What have you been telling your people for the last years, because this has been going on for a long time.
SH: That's what I told you. We have a good relationship with the Americans in everything; education, health… but politics, no. This is well known. We have been always expressing our views, which the Americans sometimes don't like.
And for example, for this, our relations with Iran continue. We never thought [support] the Americans against Iran or against Hizbollah. Again, we feel that we know our region more than the Americans.
FT: What do you think the next steps in the peace process will be? Are we at a dead end?
SH: I really can't answer this question. I think the Americans with the Israelis should answer this. This is not in the hands of the Arabs, because the Arabs until now have not been able to represent themselves to find a way for peace.
FT: What do you mean by represent themselves?
SH: They haven't found the right way to achieve peace. They cannot with the Arab initiative. That was not successful, but they have not come up with alternative steps after that, since the initiative was presented.
FT: In the last Arab League meeting, there was talk of alternatives to the peace process but what are these alternatives?
SH: Well, you have to ask Mahmoud Abbas (the Palestinian Authority president). Although I knew him when I was young, he was teacher here in Qatar. I didn't hear about other plans. And if there is another plan, we should understand it, we should discuss it.
Unfortunately, this is the Arab League, you know? We as Arabs, we launched the Arab League before Europe, and Europe made it (a union) before us, and for what reason? It's because they (the Europeans) have a democracy and in our region we don't have democracy.
FT: That leads us on to our next question.
SH: I'm not surprised.
FT: Perhaps you'd like to ask it for us. Back in the 1990s, you promised to advance democracy in the country, but things seem to be going rather slowly.
SH: It might be slow for you because you are living in Europe, but for us, if you go back 10 years ago and you see the situation in Qatar compared with now, it's completely different. You know, almost 12 years ago, we started the election for the chamber of commerce. Then after a few years, we went for municipal elections. After that, there was the voting in a referendum on the permanent constitution. This was the first time in Arab countries that people were allowed to vote for a permanent constitution. The Qatar constitution is the first in the Gulf area which equates men and women as far as rights are concerned.
Elections are inevitable. They will be coming. This is what I see for the future. But you should understand our area better; it should be better known and understood.
FT: When you say elections will be coming, they're inevitable, what is the time frame for that?
SH: I can't tell you. It's not going to be that far, because it is step by step… democracy, we have to digest it as a whole, as a country, you know? Democracy needs good education, good analysts.
FT: Do you feel that the people of Qatar are with you in this modernisation, don't you feel some people are uneasy about the changes that are taking place in Qatar?
SH: Not in Qatar. We talk about everything. If you go to what we call the majlis you will hear a lot of stories. But we are going smoothly; people are accepting the change. For example, in education, we have the American universities which are mixed, boys and girls, and whoever doesn't want to join, he can go to Qatar universities. We are making things easy and giving a lot of choices. Every family can choose.
This reminds me of when we started allowing ladies to drive. People weren't accepting this, but any family that came to us and asked us allow their girl, or daughter to drive, we said OK, if you are accepting this, she has to go and pass the exam and she will be allowed. And now you find them driving everywhere, although they are causing some problems in the street; bad drivers.
FT: Do you mean a woman cannot drive?
SH: They can drive, but they cause a problem.
FT: You're an unusual country in this region in that as the Emir, you give the prime minister a high profile, how does that relationship work? Is it true that you once said that you rule and he owns the country?
SH: No, we are a good team this is for sure; and he's doing well. And for me, as we say in Arabic, it's about what he can do for Qatar. The yardstick of measurement is Qatar. He (the prime minister) is doing well. But of course, I am giving him a lot of authority. He reports to the Crown Prince and to me.
FT: Is the crown prince also taking on more authority?
SH: He's 85 per cent running the country. There is a young generation coming. Sometimes I feel they don't feel happy with us working with them… They are more capable I must say.
FT: But what do you mean by 85 per cent, in what way is he taking 85 per cent?
SH: Well, like for the investment military… defence in general, education … but he's like in the shadow, you know? He's working quietly.
FT: And your daughter who is sitting with us too has a lot of authority.
SH: Yes, she can make good or bad report to her mother about me, but so far good report. I'm being well watched.
FT: Do you think that there's a conflict of interest when officials are involved in business, some people grumble that the prime minister for example is involved in a lot of companies.
SH: Well, if you asked me this question 15 years or 14 years ago, most of the people in power, they were having businesses, and they can speak to you frankly. After I came, we started with the weakest first two, and then we worked up, up, and we told them now it's finish, that the previous period did not serve the country when people were engaged in business and commerce, and people maybe were focusing their attention on how to make money, not so much on how to serve the country.
The prime minister, when he joined me to work, the first thing he told me that he has a business, and he doesn't want to leave his business. And of course, it was hard for me to ask him at that time to leave his business while the other were having their businesses. And we were in turbulence, you know? But I knew that I can depend on him for the future. But when I came to power, I told him it's finished. What I meant is using his power for companies, for such things like this, but if he has his own money, he's free… according to the law.
FT: It can be quite hard to make that dividing line, say where that dividing line is?
SH: If you believe that there is a big change in your country and it's going to be for the future of your generations, with determined decision, this could stop it for sure. We have an attorney general here and he has sacked many ministers, three or four.
I will tell you something. Why is our economy growing? Why do we start to have a good reputation all over the world? Because we are doing our own homework, and our own homework is that we are fighting corruption. If you go to transparency surveys we are the first in the Arab countries, we were 32 in the world two years ago.
FT: Observers often point out how important it is for Qatar to be a player on the global stage. Do you feel that you need to be up there in all the big deals and all the big public offerings, diplomatically as well?
SH: If we are capable, why wouldn't we do it? I think this is a fair chance for everybody. If we are doing well, I think this is good for the reputation of our country, and this proves that we are doing well inside the country.
But of course, normally, a small country will have a lot of difficulties, especially a small country from this region, because some don't accept your views, your vision.
FT: This leads us on to the World Cup and your bid for that, and why you think it important to try and get it here?
SH: If it happened here, it's going to be the first time it happens in an Arab and Muslim country, and I think the Middle East needs something like this. Second, Qatar is well known in the Middle East as the capital of sport. We have a lot of competition in Qatar. And this is an old policy we started in the '70s, '73/'74, for our children to avoid drugs and to engage in sport education. To me it's very important. The Middle East should feel that the world is with them.
FT: Some people say you need to have a lot more entertainment in Qatar; you can't drink in a lot of places; and like you need to have entertainment around the World Cup.
SH: I think the committee which is talking to Fifa, I think they solved this problem, because foreigners are allowed to drink.
FT: And you don't feel that the stadiums you would have to build would be what we would call white elephants, that they'd have no use afterwards?
SH: No, some parts of the stadiums I think it will go to other countries. This is the plan.
Part of the stadiums would be removable and would be moved to poorer countries.
FT: and you seem to have settled the issue of the summer heat?
SH: So far, yes, because FIFA came here and it was I think 30 degrees outside and 19 degrees inside. But you know, this could work, and we would be very happy because this (technology of cooling stadiums) can be used in other places like some malls. And actually, in our plan for the world cup, we are using the green energy, thermal energy. This is going to be the first time it is used in a stadium.
FT: Going back to geopolitics, you've often had difficult relations with some of your neighbours in the region, but relations with Saudi Arabia have improved.
SH: We had some difficulties, you know, but now our relations are very, very good and we are going into big investments together. They might be in Qatar, in Saudi too … building factories and industrial cities.
FT: Jazeera has been very controversial with some other states in the region. Do you, like the prime minister, have to spend time putting out fires from Jazeera coverage?
SH: Well, I know Jazeera causes me a big problem too. In the past, many Arab leaders didn't even want to talk to me. But it's good that then they understand that I'm not going to change my mind.
FT: Why is Jazeera so important to you?
SH: Yes. I created Jazeera, and I believed that people in the Middle East have to understand what's going on and to discuss their views freely. On Jazeera, I've been attacked by Osama Bin Laden, he called me the Karzai of Qatar, but it's OK, what shall I do?
Another point which I never heard anybody talking about it is that Jazeera represents the classic Arabic, and this is the language which the Arab countries should understand. This will bring us together, closer, more than our local language.
FT: Are you satisfied with the progress at the English language channel?
SH: I'm so happy; actually in Qatar, there is a big competition in the houses now between Jazeera English and Arabic.
FT: Which one do you prefer watching?
SH: I prefer the Arabic because I can understand it quicker than the English one, but I think my children are watching Jazeera English.
FT: Before we conclude we wanted to ask whether the extent to which you feel the weight of history on your shoulders, that the country has a limited time in which to make use of the natural hydrocarbon resources, and that a heavy responsibility therefore lies on you to achieve this.
SH: This is what I felt right from the start when I assumed authority of running the country, and we started thinking of investing for the future and making sure that the future generations will be guaranteed their standard of living. And also, one of the things I'm thinking of is the retirement fund. I want to inject enough money now into it so that in the future, it will not require any financing or financial help from the state. Because I notice the problems in European countries and the average age of citizens is nowadays longer than before, and that entails some problems, so I'm thinking of the future now and I want to tackle the problem before it becomes a real issue in the future.
FT: And how do you want to be remembered?
SH: Well, first, I want to tell you the doctor told my father that his woman (my mother) will not be able to have children, and that any baby that comes will die. I had a sister, my mother's first child, and she died. Then I was born and my mothers passed away after that, two days after. We didn't have a good hospital at that time and she had surgery without anaesthesia.
This is how I was born and I found myself in power, and I have to do… I have to do things; it's not just to be remembered. Believe me, this never came in my mind, although people love people saying good things about them, but to me, as I told you, the measurement, I always do everything for Qatar. Qatar to me is the most important.