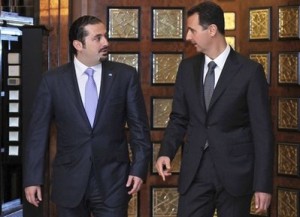 Syrian President Bashar al-Assad told Al-Hayat newspaper during an interview to be published starting Tuesday: "Prime Minister Saad Hariri is the "right man to be the premier at this tough time , since he is the only one capable of overcoming the present difficulties facing Lebanon."
Contrary to reports coming from Damascus Assad said that there are no problems between him and Hariri, adding that there is chemistry between them and Damascus's "doors are open" to him.
According to a report published last Wednesday by the pro-Syrian newspaper Al Akhbar , Syria is disappointed with Lebanese Prime Minister Saad Hariri's performance, particularly after a series of meetings with Syrian President Bashar Assad over the past year.
Assad also said that none of the Lebanese leaders with whom he met in past weeks did propose a governmental change, adding that dialogue is necessary to solve problems.
He went on to say that people are talking about the STL's indictment as if it is a normal crime, but "when an indictment relates to a national organization in a country divided into sects, it will cause destruction for all and could destroy the country," Assad said.
He added: The STL is a Lebanese affair and Syria has no information about its indictment or the timing, he said.
Assad also confirmed that Syrian-Saudi relations are strong and that his relationship with Saudi King Abdullah bin Abdel Aziz strengthens them.
Asked about his meeting with Progressive Socialist Party leader MP Walid Jumblatt last Sunday, Assad said the PSP leader has returned to being "the Walid we used to know in the past."
Tension escalated in Lebanon following reports that the Special Tribunal for Lebanon will soon issue its indictment into the 2005 assassination of Lebanon's former Prime Minister Rafik Hariri. Last July, Hezbollah Secretary General Sayyed Hassan Nasrallah said that the tribunal is "an Israeli project" that will indict Hezbollah members. Nasrallah accused Israel of being behind Hariri's assassination but refused to provide the evidence to STL to support his claim. Hezbollah and its March 8 allies have been calling for the abolition of STL.
Jumblatt, who has been calling for calm is concerned that should the court indict Hezbollah members, it could lead to a Shiite-Sunni strife, but others disagree since Hezbollah and its allies the Syrian backed Palestinian militants are the only armed militias in Lebanon.