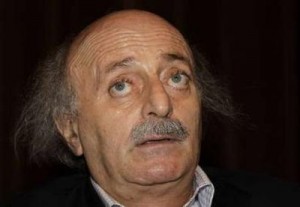 Progressive Socialist Party ( PSP) leader Walid Jumblatt told As-Safir that Syrian President Bashar Assad sent 'friendly signals' to Prime Minister Saad Hariri.
He also told National News Agency said that he discussed with Syrian President Bashar Assad efforts to defuse Lebanon tensions and consolidate unity.
Jumblatt, who met Assad on Sunday told al-Manar television that his meeting with the Syrian president was "excellent."
"We will win as we won when we went through similar circumstances in the past," Jumblatt assured.
Prior to heading to Damascus Jumblatt said that Syria and Saudi Arabia are currently considering ways to resolve the crisis over the indictment by the special Tribunal for Lebanon ( STL) and stressed that delaying the indictment means delaying the problem.
"I heard that the indictment has been postponed till March," Jumblatt said but stressed that Lebanon cannot wait till then to resolve the crisis .
Addressing the issue of false witnesses, Jumblatt said he is opposed to voting on it since this could lead to a "big dilemma."
In a related development PSP spokesman Rami Rayess told Voice of Lebanon on Monday that the issue of false witnesses requires an understanding by all political forces. This is better than seeking a vote.
Addressing the issue of arming the Lebanese army Jumblatt said:
"Everybody wants the army and we do nothing for the army," he thought. "We want the army everywhere."
Tension escalated in Lebanon following reports that the Special Tribunal for Lebanon will soon issue its indictment into the 2005 assassination of Lebanon's former Prime Minister Rafik Hariri. Last July, Hezbollah Secretary General Sayyed Hassan Nasrallah said that the tribunal is "an Israeli project" that will indict Hezbollah members. Nasrallah accused Israel of being behind Hariri's assassination but refused to provide the evidence to STL to support his claim. Hezbollah and its March 8 allies have been calling for the abolition of STL.
Jumblatt is concerned that should the court indict Hezbollah members, it could lead to a Shiite-Sunni strife, but others disagree since Hezbollah is the only armed militia in Lebanon.
On Friday former Lebanese PM Salim el Hoss ruled out any Shiite- Sunni strife in Lebanon over the STL indictment, saying the "Sunnis and Shiites are one people .. there never was and there will never be a strife between them."
Similarly Lebanese Forces leader Samir Geagea said last Friday "Hezbollah should respond to the indictment through lawyers and the gathering of evidence", , adding that "it is not the indictment that will destroy the country, but rather those who say that it will cause destruction."
This error message is only visible to WordPress admins
Error: No connected account.
Please go to the Instagram Feed settings page to connect an account.