Four people were killed early Monday morning when a bomb exploded at one of Pakistan's largest Sufi shrines, police officials told CNN. Eight others were wounded.
The bomb was placed at one of the gates of the Baba Farid shrine and exploded shortly after dawn prayers when crowds of morning worshipers usually leave the site, police said.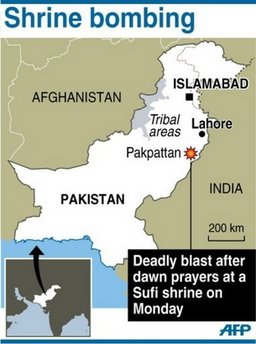 The shrine is located in Pak Pattan, an ancient city in Punjab province about 190 km (118 miles) south of Lahore.
Baba Farid is considered one of Pakistan's most revered Sufi saints.
No one has claimed responsibility for the blast. But in recent months Muslim extremists have stepped up attacks against minority sects and their places of worship.
Police officials said eight people were injured in Monday morning's blast.CNN