Viva Palestina convoy reaches Gaza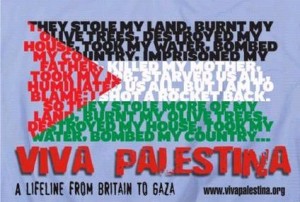 Pro-Palestinian activists in more than 100 cars and lorries have crossed into the Israeli-blockaded Gaza Strip through Egypt's Rafah crossing with aid worth nearly $5m.
The multinational "Viva Palestina" ship arrived at Egypt's port city of al-Arish from Lattakia, Syria, earlier on Thursday. About 300 activists then flew into al-Arish airport and converged with the ship's passengers before entering Gaza.
The activists had initially joined up in Syria from Turkey, Algeria, Morocco, Jordan, and more than two dozen other countries.
"]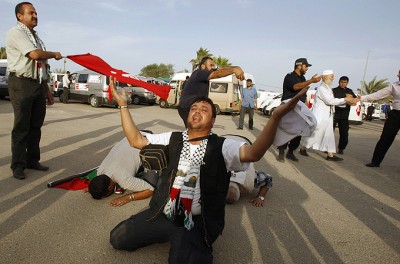 The convoy was organised by George Galloway a British politician. However, Galloway was not with the convoy after being banned from Egypt following clashes between activists from a previous aid mission and police in January in El-Arish, 45km from Gaza.
Zaher Berawi, the spokesman for the convoy, criticised Cairo's insistence on "excluding convoy official George Galloway," and said he hoped the issue of the former parliamentarian's banning could be resolved in the future.
Warm welcome
Viva Palestina originally departed from London on September 18 and arrived in Syria two weeks later.
The activists then waited for over two weeks in Lattakia for permission from the Egyptian authorities for the shipment, which includes medical supplies and school equipment, to be allowed to enter al-Arish port.
Hamas officials and hundreds of Gazans welcomed the convoy, waving Palestinian flags and also those of countries participating in the mission.
The aid does not include any building materials, which the Egyptian authorities did not allow, as part of the agreement permitting the activists to enter Gaza for three days.
Israel has kept Gaza under a blockade since 2007, saying it is a necessary step to stop arms reaching the Hamas group running the strip.
Flotilla survivors
Several dozen survivors from the Israeli attack on May 31 on the Turkish aid ship the Mavi Marmara were among those in the "Viva Palestina" convoy.
Israeli commandos killed nine pro-Palestinian Turkish activists when they boarded the Mavi Marmara, the main vessel in a 'Freedom Flotilla' also attempting to deliver aid to Gaza.
Israel's leaders said their troops opened fire in self-defence after being set upon by activists.
However, a UN inquiry last month found that Israeli troops broke international law by boarding the flotilla and found that the killings of activists on-board were comparable to "summary executions".
After an international outcry over the Mavi Marmara raid, Israel relaxed its embargo but construction materials remain restricted.
Gazans have limited freedom of movement and Israel still enforces its naval blockade. Aljazeera