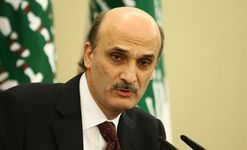 Lebanese Forces (LF) leader Samir Geagea stressed on Thursday following a meeting with Tashnaq Party leader MP Hagop Pakradounian, that there will be no compromises at the expense of the Special Tribunal for Lebanon (STL) under any circumstances, according to a statement issued by the LF.
On the issue of false witnesses :
"We cannot talk about false witnesses in the investigation of the Rafik Hariri murder . We can talk about questionable testimonies but should wait until the STL indictment is issued," Geagea said, denying the possibility of postponing the court's indictment.
In a related development Eckhard Vihopf , Attorney General at office of STL prosecutor Daniel Bellemare stressed on Wednesday the need to separate between the work of the International Independent Investigation Commission, and investigations by the Special Tribunal for Lebanon over the assassination of late Prime Minister Rafik Hariri.
Vihopf was referring to the International investigation carried out be former Investigation chiefs Detlev Mehlis and Serge Brammertz.
Regarding Syrian calls for changing Lebanese premier Geagea said:
"There is no replacement for Prime Minister Saad Hariri as the country's premier," adding that such an issue is strictly a Lebanese affair.
About his relationship with Tashnaq Geagea said:
"The Tashnaq party is a friend of LF , despite its political alliances," describing the meeting with Pakradounian was positive.
Geagea was referring to the political alliance between the Tashnaq and FPM parties. FPM is headed by MP Michel Aoun , a close ally of Hezbollah
Pakradounian stressed the common principles shared by his party and the LF, including the belief in Lebanon's independence and sovereignty; the support of Lebanese state institutions and army; and the importance of dialogue between parties.
"Everyone must confront foreign attempts to exploit the STL to incite sedition [in Lebanon]," Pakradounian added.
Tension escalated in Lebanon following reports that the Special Tribunal for Lebanon will soon issue its indictment into the 2005 assassination of Lebanon's former Prime Minister Rafik Hariri. Last July, Hezbollah Secretary General Sayyed Hassan Nasrallah said that the tribunal is "an Israeli project" that will indict Hezbollah members. Nasrallah accused Israel of being behind Hariri's assassination but refused to provide the evidence to STL to support his claim. Hezbollah and its March 8 allies have been calling for the abolition of STL
There are concerns that should the court indict Hezbollah members, it could lead to a Shiite-Sunni strife. Now Lebanon
This error message is only visible to WordPress admins
Error: No connected account.
Please go to the Instagram Feed settings page to connect an account.