Clinton voices concern over lebanon tension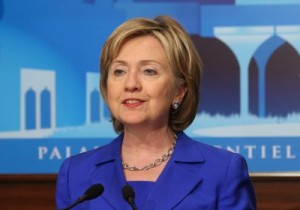 US Secretary of State Hillary Clinton called Lebanese President Michel Suleiman on Wednesday to reaffirm the strong commitment of the United States to Lebanon's sovereignty, independence, and stability and the Obama Administration's steadfast support for the development of strong and effective Lebanese state institutions.
The Secretary also spoke about recent political developments in the region, including the troubling rise of tensions in Lebanon, and reconfirmed the importance to the United States of Lebanon's stability and independence and to building strong state institutions through our security and economic assistance programs.
The Secretary also underscored that the U.S. fully endorses the UN Secretary-General's recent statement that the Special Tribunal's efforts must go forward without interference, and she emphasized that efforts to discredit, hinder, or delay the Tribunal's work should not be tolerated.
Indictments
In a related development Eckhard Vihopf , Attorney General at office of STL prosecutor Daniel Bellemare stressed the need to separate between the work of the International Independent Investigation Commission, and investigations by the Special Tribunal for Lebanon over the assassination of late Prime Minister Rafik Hariri.
He was referring to the International investigation carried out be former Investigation chiefs Detlev Mehlis and Serge Brammertz.
During an International Media Forum organized by the Special Tribunal for Lebanon (STL) at its headquarters in the Dutch city of The Hague and to which many members of the Lebanese media were invited , he said that the indictments to be issued will not accuse specific countries , organizations or or parties, but individuals only.
The purpose of the forum is to explain the court procedures and model of operation of the STL judicial mechanism
In response to a question, the judge confirmed that the indictments, according to the Rules of Procedure and Evidence, may not announce the indictments to the public. He cited Article 74 which reads :"In exceptional circumstances, at the request of the Prosecutor or the defense, the judge , as my be required by the interests of justice, order not to announce the indictment to the public."
Tension escalated in Lebanon following reports that the Special Tribunal for Lebanon will soon issue its indictment into the 2005 assassination of Lebanon's former Prime Minister Rafik Hariri. Last July, Hezbollah Secretary General Sayyed Hassan Nasrallah said that the tribunal is "an Israeli project" that will indict Hezbollah members. Nasrallah accused Israel of being behind Hariri's assassination but refused to provide the evidence to STL to support his claim. Hezbollah and its March 8 allies have been calling for the abolition of STL
There are concerns that should the court indict Hezbollah members, it could lead to a Shiite-Sunni strife.