Iraq PM takes foreign gamble to win over rivals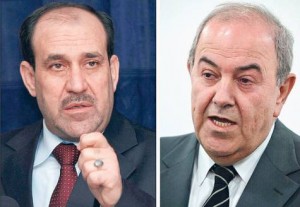 Iraq's prime minister is using a round of shuttle diplomacy this week to gain regional backing for his bid to stay in power by offering business opportunities in Iraq's war-damaged economy, political sources said.
A March parliamentary election yielded no outright winner, leaving Iraq in limbo and raising fears that insurgents would exploit the vacuum to stir sectarian tensions just as the bloodshed triggered after the 2003 U.S.-led invasion fades.
Prime Minister Nuri al-Maliki, a Shi'ite, has won crucial support from Iran-backed, anti-U.S. Shi'ite cleric Moqtada al-Sadr, but remains at odds with some Shi'ite groups and the secular, Sunni-backed Iraqiya bloc that won the most votes.
Maliki was in Iran on Monday after visiting Syria and Jordan and is expected in Egypt and Turkey this week. Arab nations want Iraqiya to be part of the next government but Iraqiya itself has refused to join if Maliki is prime minister.
A senior political source in Maliki's coalition told Reuters that the premier was offering Arab nations investment deals in exchange for their efforts to nudge Iraqiya toward compromise.
"Maliki has a serious problem called Iraqiya…There is a strong current inside Iraqiya looking to make a deal with Maliki but they fear regional countries," said the source, who is a member of the Shi'ite-led Iraqi National Alliance.
"He (Maliki) needs these countries to put pressure on Iraqiya to get its support. In exchange, he is ready to give them oil at preferential prices, give them investments."
Other sources Reuters spoke to this week described the same approach but the government has not spoken openly about seeking business deals. In recent weeks Iraq has agreed to build oil and gas pipelines connecting Syria and Iran.
IRONIC TWIST
Maliki's efforts to get regional powers involved offers an ironic twist in his posture after frequent calls from him for neighbours to stay out of Iraq's domestic affairs.
Iran appears to have been instrumental in securing Sadr's support for Maliki, while Turkey and Syria are key mediators representing Sunni interests with influence over Iraqiya.
Maliki also needs Iran to put pressure on the Supreme Islamic Iraqi Council (ISCI), an Iran-friendly Shi'ite bloc that has not backed Maliki's nomination.
"Growing external support for Maliki may serve to unlock the Iraqi political stalemate," said Gala Riani, Middle East analyst with consultants IHS Global Insight.
"Without this external support Maliki would have found it nearly impossible to unblock the resistance to his return among the majority of Iraqi parties and blocs, not least of which was his own Shi'ite bloc."
Iraqiya won 91 seats in Iraq's 325-seat assembly, the largest number. Maliki's State of Law party won 89 seats.
Iraqiya's head, former premier Iyad Allawi, says excluding his party from the government could trigger fresh violence.
Minority Kurds, with more than 50 seats, are kingmakers. Their demands include more control over oil-rich northern Iraq.
Some analysts said Maliki's decision to woo regional countries might be the result of recent signals of rapprochement between the Kurds and Iraqiya that could scupper his chances.
Reidar Visser, of Iraq-focused website www.historiae.org, said he saw no quick solution to the Iraqi political impasse.
"The sudden upsurge of regional diplomacy by Maliki suggests that he is feeling the heat and wants to receive regional backing in the battle for the Kurdish vote," he said.
"The Kurdish signals still go in different directions, some preferring Allawi and others preferring Maliki, and there is no indication yet that they are about to agree among themselves imminently."
By Suadad al-Salhy and Maria Golovnina
Source: Reuters