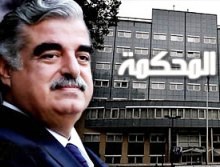 A U.N. tribunal carried out a controlled explosion Tuesday at a French military base as part of its investigation into the assassination of former Lebanese Prime Minister Rafik Hariri.
The Special Tribunal for Lebanon said in a statement that the explosion at the Captieux military base in southwest France was watched by a team of international experts who will carry out forensic tests.
The court said their results will form part of the investigation, but said Tuesday's blast was not intended to replicate the truck bombing that killed Hariri and 22 other people on Beirut's Mediterranean waterfront on Feb. 14, 2005.
"Neither in its method nor in its purpose can the experiment be compared to a crime reconstruction," the statement said.
A billionaire businessman, Hariri was Lebanon's most prominent politician after the country's devastating 15-year civil war ended in 1990.
The court, based in the village of Leidschendam on the outskirts of The Hague, has not yet indicted any suspects in his assassination.
Speculation that it could indict members of Hezbollah has fueled a political crisis in Lebanon. Hezbollah contends the tribunal has been poisoned by witnesses who have given false information. AP