Geagea: Liberating Lebanese territories is no longer Hezbollah's cause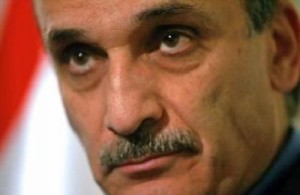 Lebanese Forces leader Samir Geagea who last Wednesday described as "moderate" the speech made by visiting Iranian President Mahmoud Ahmadinejad , criticized his speeches in Dahiyeh and Bint Jbeil, during an interview with the Paris Match magazine published on Sunday.
"The Iranian president's speech in Baabda on Wednesday was that of a statesman, while his speeches in Dahiyeh and Bint Jbeil were those of a partisan, " Geagea told Paris Match.
Ahmadinejad on Wednesday in Baabda reaffirmed Tehran's ties with Lebanon , whereas in Dahiyeh he warned that hegemonic powers are fabricating accusations, a reference to the Special Tribunal for Lebanon (STL)—to sow divisions in Lebanon.
Geagea said that Syria and Hezbollah's allies are against the STL. "They are ready to paralyze the government to stop the tribunal's work," he added.
Geagea said liberating occupied Lebanese territories is no longer Hezbollah's cause, adding that the Resistance is now part of a large confrontation between Iran on one side and Western and moderate Arab nations on the other.
Geagea said Ahmadinejad used his trip to Lebanon to tell the world that Iran is not isolated ,but has real friends in the region and to prepare Hezbollah for a possible future military action .
Geagea ruled out the possibility of a civil war in Lebanon. On the other hand he did not rule out, the possibility of regional war that could involve southern Lebanon 'due to Hezbollah's strategic link to Iran and the implementation of its schemes in the region.'
Geagea also ruled out the possibility of a confrontation between the Lebanese Forces and Hezbollah specially since the" Lebanese Forces does not posses any arms."
Geagea stressed that the decision of peace or war should be taken by the state noting that March 14 majority alliance has always been pushing in this direction but this cannot be accomplished as long as Hezbollah does not hand over its arms to the state and as long as it does not recognize the state authority.
Rejects Iranian axis
Central News Agency quoted on Sunday an unnamed Lebanese Forces source as saying that Prime Minister Saad Hariri discussed Iranian President Mahmoud Ahmadinejad's Beirut visit with Geagea during a Friday evening meeting.
Hariri and Geagea said that Lebanon will not be a part of any axis and its position regarding current issues will be in line with Arab consensus, the source said.