Muslim scholar: Christian exodus hurts Middle East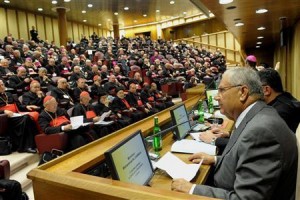 Christian emigration from the Middle East is impoverishing Arab culture and Muslims have a duty to encourage the presence of Christian minorities, a Lebanese government adviser told a Vatican summit on Thursday.
Mohammad Sammak, a Sunni Muslim who is secretary general of Lebanon's Christian-Muslim Committee for Dialogue, told a synod of bishops the declining number of Christians in the region was a concern for all Muslims.
"The emigration of Christians is an impoverishment of the Arabic identity, of its culture and authenticity," said Sammak, who is an adviser to Lebanese Prime Minister Saad Hariri. He added that maintaining the Christian presence in the Middle East was a "common Islamic duty."
The two-week meeting is debating how to protect minority communities in the Middle East and promote harmony with other religions. Christians made up about 20 percent of the region's population a century ago and now account for about 5 percent.
Iran's Ayatollah Seyed Mostafa Mohaghegh Damad Ahmadabadi, a Shi'ite law professor, recognized the need to protect minority communities in his speech to the synod.
"The stability of the world depends on the stability of the livelihood of small and large groups and societies," Damad said.
"This stability could only be achieved when all can live without fear and threat from others. This is our duty to bring about such conditions."
Speaking earlier at a joint news conference in Rome, both Muslim scholars stressed that radicalization was not just an Islamic problem.
"There is the rise of fundamentalism inside Israel, and in Christian and Zionist movements in the United States, and there is the rise of Islamic fundamentalism also," said Sammak.
"This is a negative phenomenon, and not only Christians are suffering from it." Reuters
Photo: Muhammad Al-Sammak (R), political adviser to the mufti of Lebanon, addresses the audience during the synod for the Middle East bishops at the Paul VI Hall at the Vatican, October 14, 2010