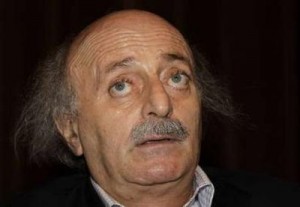 Democratic Gathering bloc leader MP Walid Jumblatt told BBC TV on Thursday that the ministers who represent his bloc in the cabinet will not resign, adding that he will nominate Prime Minister Saad Hariri once again if he resigns from his post in order to save the country.
"No one can joke about resignation….This could lead to political vacuum," he warned stressing that Hariri possesses the wisdom, credibility and courage to get the country out of the crisis.
Jumblatt said that "if Hariri declares that the Special Tribunal for Lebanon (STL) is politicized and that he no longer wants it, it would be a move that will defuse tension in the country."
He also said that he will refuse the STL's indictment if it charges Hezbollah members of being involved in the 2005 assassination of former Prime Minister Rafik Hariri.
Jumblatt voiced his concern about the possibility of having sectarian violence in Lebanon, stressing that the issue of witnesses who gave false testimony to the international commission investigating the Rafik Hariri murder should be taken into account.
"What else can I do but call for calm," he said.
According to observers, Jumblatt's stance with regards to STL is not shared by the majority of his supporters …. neither within the Druze community nor within his Progressive Socialist party (PSP).
Tension escalated in Lebanon following reports that the Special Tribunal for Lebanon will soon issue its indictment into the 2005 assassination of Lebanon's former Prime Minister Rafik Hariri. Last July, Hezbollah Secretary General Sayyed Hassan Nasrallah said that the tribunal is "an Israeli project" that will indict Hezbollah members. Nasrallah accused Israel of being behind Hariri's assassination but refused to provide the evidence to STL to support his claim.
There are concerns that should the court indict Hezbollah members, it could lead to clashes similar to those of the May 7, 2008 events.