Ahmadinejad arrived in Beirut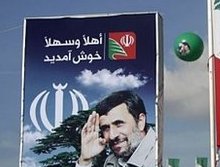 Iranian President Mahmoud Ahmadinejad arrived in Beirut on an official two-day visit to Lebanon, where he was received by Speaker Nabih Berri.
Addressing the Iranian guest Berri said : "Your visit is very important for friends and has become more important thanks to our enemies."
Thousands of the Iranian backed Hezbollah supporters gathered in the streets of Beirut to welcome him . Many of them were carrying or draped in Iranian flags.
In a related development a bomb exploded at dawn Wednesday under the car of a pro-Hezbollah Sunni cleric Mustapha Malas in Miniyeh in the northern Lebanese city of Tripoli. No casualties were reported.
Prior to departing Tehran, Ahmadinejad said that the purpose of his visit to strengthen relations with Lebanon.
"Lebanon is the focus point of Resistance and standing against those who demand too much," Ahmadinejad was quoted as saying on the state television's website prior to departing to Lebanon.
"It is playing an excellent role in this regard," he added.
Although Ahmadinejad is sure to receive a huge welcome from Hezbollah and its allies, his two-day official trip has sparked criticism among Lebanon's parliamentary majority who see it as a bid to portray Lebanon as "an Iranian base on the Mediterranean."
Open Letter to Ahmadinejad
Several Lebanese politicians and members of civil society issued an open letter to Iran's president, accusing him on the eve of his official visit to Lebanon of meddling in the country's affairs.
The letter was signed by some 250 people, among them former MPs close to the Western-backed parliamentary majority, doctors, teachers and journalists. It lashed out at Mahmoud Ahmadinejad over Iran's support of Hezbollah.
"One group in Lebanon draws its power from you … and has wielded it over another group and the state," said the letter.
"You are repeating what others have done before you by interfering in our internal affairs," the letter added, referring to Tehran's financial and military backing of Hezbollah, considered a proxy of Iran.