Gemayel: We are worried about the future of Lebanon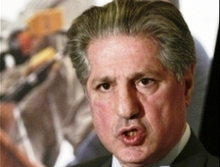 Lebanon's former president and Phalange Party leader Amin Gemayel called on President Michel Suleiman to hold emergency talks to save the country's future.
"Some people do not search for a settlement, but are looking for domination," Gemayel said.
"I urge the President to develop national dialogue on the defense strategy and to call for a quick meeting to discuss the future of Lebanon and its institutions because we are worried about the future of our country, " he stressed.