Lebanon FM blocks debate on expatriate vote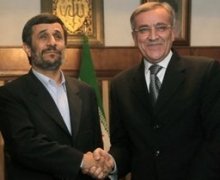 "I asked to put a halt to the debate on absentee voting in the 2013 parliamentary elections," Minister of Foreign Affairs Ali Shami told NBN news channel.
Shami who is a member of Amal movement said the request to postpone the issue scheduled for debate in Tuesday's Cabinet session was "in order to finalize the study on the report."
Shortly afterwards, the foreign ministry issued a statement saying media comments made earlier on Shami's report on absentee vote were "incorrect."
Local media on Sunday claimed that Shami's report, slated for discussion in Cabinet on Tuesday, said that Lebanese expatriates will not vote in the 2013 "because of lack of enthusiasm."
"It is impossible to allow expatriates to participate in the upcoming elections," Shami reportedly said.
The report, a copy of which was handed over to Cabinet ministers, is expected to raise a heated debate in Cabinet, An-Nahar newspaper said.
In a related development Deputy Speaker Farid Makari, a member of March 14 alliance said on Sunday said the "other side" ( March 8 ) is aware that the voice in the 2013 parliamentary elections is not in its interest "that's why it doesn't want to vote."
"We are still three years away from parliamentary elections and it is our duty to correct errors in any way possible," Makari told MTV.
Photo: Minister of Foreign Affairs Ali Shami is shown with Iranian president during his vivit to Tehran. The visit was reportedly not authorized by the cabinet or PM Hariri