Nasrallah comes out of hiding to plant a tree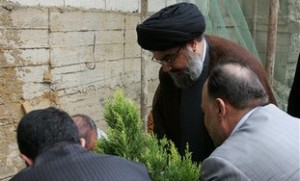 Hezbollah Secretary-General Sayyed Hassan Nasrallah briefly came out of hiding on Friday to plant a tree as part of his party's campaign to encourage the Lebanese to go green.
Nasrallah, who was last seen in public in July 2008, was shown on Hezbollah's Al-Manar television station emerging from hiding to plant a tree near his home in the southern Beirut suburb of Haret Hreik.
Nasrallah was reportedly accompanied by several Hezbollah officials including Agriculture Minister Hussein Hajj Hassan, MP Ali Ammar and a number of other officials, according to al Manar.
Al Manar reported that the tree is part of a campaign to plant 1 million trees in Lebanon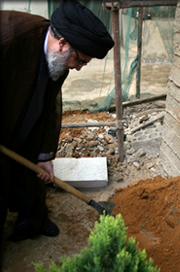 "Praise be to Allah. In the presence of the brothers today, Almighty Allah has granted us success in planting the one millionth tree in the framework of the campaign to build one million trees that has been organized by the Jihad Al-Binaa organization in the past few months. We wanted to plant this tree in this particular place, near our residence in Haret Heriek, which was destroyed during the 2006 war, to address every citizen and say: If every Lebanese plants a tree next to his house and pledged to take care and preserve it, imagine how our country would look like. Of course this is an urgent need at every level. In the framework of this move, we wrap up the campaign and we hope that God willing, we will meet at the festival that will be organized by Jihad Al-Binaa to elaborate on this matter," Nasrallah said according to al Manar
Al Manar also reported that on Saturday, Nasrallah will deliver a speech to mark the occasion ( via video link) , and he is also expected to address the latest developments in Lebanon.