Najjar: Solving the false witnesses issue is not the only solution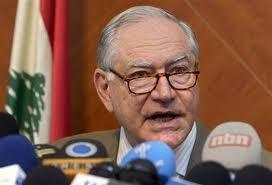 Lebanese Justice Minister Ibrahim Najjar told NBN TV on Tuesday that resolving the issue of false witnesses is not the only solution to the crisis Lebanon faces.
Najjar said that he was ready to address the cabinet on the issue of false witnesses during its Monday session, however the statements following Syria's Sunday decision forced the cabinet to discuss that issue instead.
Last Sunday the Syrian judiciary reportedly issued 33 arrest warrants for judges, officers, politicians and journalists of Lebanese, Arab and other nationalities in the case brought by former Lebanese General Security chief Jamil as-Sayyed, according to a statement from Sayyed's office.
In December 2009, Sayyed filed a lawsuit in Damascus against various defendants whom he alleges were involved in a conspiracy of false testimonies against him.
Sayyed and 3 other generals were detained from 2005 to 2009 on suspicion of involvement in former PM Rafik Hariri's murder. In April 2009, the Special Tribunal for Lebanon (STL ) ordered their release without charges due to insufficient evidence. STL prosecutor made it clear at the time they were set free that their release did not mean they are Innocent and that once more evidence is available they could be back in jail.
Tension escalated in Lebanon after reports said that the Special Tribunal for Lebanon (STL) will soon issue its indictment into the 2005 assassination of former Prime Minister Rafik Hariri. Last July, Hezbollah Secretary General Sayyed Hassan Nasrallah said that the tribunal is "an Israeli project" that will indict Hezbollah members. Nasrallah accused Israel of being behind Hariri's assassination but refused to provide the evidence to STL. There are fears that, should the court indict Hezbollah members, it could lead to clashes similar to those of the 2008 May Events.
Lebanon is not the only country that is experiencing problems because of the International Tribunal . Olga Kavran, Head of the Outreach Office for the Special Tribunal for Lebanon ( STL) , noted on Tuesday that "political pressures have always been exerted on international tribunals in third world countries, but they have all failed to reach their objectives."