Syrian arrest warrants outrage the Lebanese
The Syrian judiciary action outraged many Lebanese leaders who say the arrest warrants have no legal standing in Lebanon and are only effective in Syria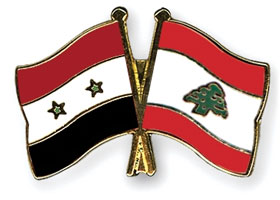 On Sunday the Syrian judiciary issued 33 arrest warrants for judges, officers, politicians and journalists of Lebanese, Arab and other nationalities in the case brought by former Lebanese General Security chief Jamil as-Sayyed, according to a statement from Sayyed's office.
Sayyed along with 3 other generals was detained from 2005 to 2009 on suspicion of involvement in former PM Rafik Hariri's murder. In April 2009, the Special Tribunal for Lebanon (STL ) ordered their release without charges due to insufficient evidence. STL prosecutor made it clear at the time they were set free that their release did not mean they are Innocent and that once more evidence is available they could be back in jail.
The Syrian judiciary action outraged many Lebanese leaders who say the arrest warrants have no legal standing in Lebanon and are only effective in Syria.
Here are some of the reactions of Lebanese leaders :
Hariri
Prime Minister Saad Hariri headquarters were reportedly shocked by the Syrian judiciary's arrest warrants prominent ministerial sources told the daily An Nahar Monday even though all of them are aware that the arrest warrants have no legal standing in Lebanon and are only effective in Syria.
Prominent Mustaqbal Movement sources wondered at the warrants specially since they were issued after Hariri made positive initiatives towards Syria, reported As Safir Monday. They reportedly see the warrants as a direct political message that is not yet very clear to Hariri.
They stressed however that the Mustaqbal movement will remain committed to the rapprochement with Syria.
Geagea
Lebanese Forces leader Samir Geagea slammed the arrest warrants stressing that the Syrian judiciary does not have jurisdiction in this matter because the assassination of Lebanon's former Prime Minister Rafik Hariri took place on Lebanese soil.
"Never in Syria's history has its judiciary issued a warrant against an individual from another country," Geagea told the daily An Nahar on Monday.
"This is not the way to reward President Michel Suleiman and Prime Minister Saad Hariri for all their efforts in building ties between Lebanon and Syria," Geagea said.
Geagea said , "The names that have been summoned draw a picture of a shocking Syrian attack on Lebanese institutions and a number of individuals."
Sakr
March 14 MP Okab Sakr on Sunday voiced "extreme dismay" over the Syrian arrest warrants describing the move as "a blow to the ongoing and continuing constitutional and political relations between Premier Saad Hariri and the Syrian leadership on the way towards building full confidence between the two countries."
In a statement he issued, Sakr urged "President Michel Suleiman, in his capacity as the one entrusted with the constitution and liberties, to put his hand on this case."
He also called on the cabinet and the premier "to have a stern and decisive stance regarding this issue."
Sakr said that the Lebanese parliament must act, calling on Speaker Nabih Berri to "call a parliament session or form a parliamentary committee to tackle an arrest warrant issued against a Lebanese MP (Marwan Hamade) who has the backing of the Lebanese people and parliamentary immunity."
Furthermore, Sakr stressed "the need that Lebanon's Higher Judicial Council act legally on the issue , given that there are judges whom arrest warrants were issued against in an unprecedented move by the Syrian side."
He also urged Interior Minister Ziad Baroud "to take an appropriate stance regarding arrest warrants issued for top Internal Security Forces officers," calling on the editors and journalism syndicates to "hold a joint meeting and take the measures that are apt to protect journalists and media freedoms in Lebanon."
Harb
Labor Minister Butros Harb told VOL on Monday : Syrian judiciary arrest warrants have ignored the existence of the Lebanese state and Syria's diplomatic relations with it. What took place was an insult to the Lebanese and Lebanon's constitutional institutions.
Jisr
Mustaqbal bloc MP Samir al-Jisr told VOL on Monday: Issuing arrest warrants from Syria is unfortunate from a legal perspective and baseless because they are related to a crime that took place on Lebanese soil.
Rifi
Lebanon's Internal General Security Forces chief Ashraf Rifi said on Monday that Interpol will not comply with the Syrian judiciary's arrest warrants against Lebanese individuals because they are politically motivated.
Rifi pointed out that in the past, Syria had issued an arrest warrant against Progressive Socialist Party leader MP Walid Jumblatt that Interpol had ignored because it had political aims.
Fatfat
Mustaqbal MP Ahmed Fatfat told New TV on Monday: The Syrian arrest warrants are considered as a Medal of Honor. There are some who don't want Lebanese-Syrian relations to take a positive turn. We expected a different practice.
He is referring to Sayyed. Many political observers consider the Syrian action as a reward to Sayyed for diverting the accusations over the assassination of Lebanon's former PM from Syria to Hezbollah
Hamadeh
MP Marwan Hamadeh told LBC on Monday: I will not comment on the Syrian arrests because, to me, this issue is "zero."
Hamadeh's statement contradicts that of Democratic Gathering bloc leader MP Walid Jumblatt who said after meeting the Syrian Ambassador: "There is no problem with the arrest warrants and the guilty must be punished." Hamadeh is a prominent member of the Democratic Gathering Parliamentary bloc.