Syrian judiciary issued 33 arrest warrants for Lebanese, others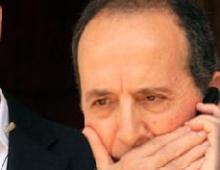 On Sunday the Syrian judiciary issued 33 arrest warrants for judges, officers, politicians and journalists of Lebanese, Arab and other nationalities in the case brought by former Lebanese General Security chief Jamil as-Sayyed, according to a statement from Sayyed's office.
Sayyed along with 3 other generals was detained from 2005 to 2009 on suspicion of involvement in former PM Rafik Hariri's murder. In April 2009, the Special Tribunal for Lebanon (STL ) ordered their release without charges due to insufficient evidence. STL prosecutor made it clear at the time they were set free that their release did not mean they are Innocent and that once more evidence is available they could be back in jail.
In December 2009, he filed a lawsuit in Damascus against various defendants whom he alleges were involved in a conspiracy of false testimonies against him.
Detlev Mehlis, former head of the U.N. commission investigating former PM Rafik Hariri's murder, and his aide Gerhard Lehmann are among the 33 people named by the Syrian warrants, Sayyed's press office noted.
On September 25, the Lebanese daily Ad Diyar reported that the Syrian judiciary was waiting for the appropriate time to send the warrants to its Lebanese counterpart.
"If the Lebanese judiciary does not comply with the Syrian demand, then Syria will take the appropriate measures to have Interpol issue arrest warrants for those individuals," the newspaper added.
"The game is bigger than (Premier) Saad Hariri. It is related to international schemes, starting from the new Middle East, which used Rafik Hariri's blood to strike Syria," Sayyed said in remarks published Sunday by the Syrian daily al-Watan.
"But today, after failure of the plot, they moved to accuse the Resistance seeking a new scheme based on creating a Sunni-Shiite strife to divert attention from the struggle against the Israeli enemy and transfer this conflict to one between Arabs and Muslims themselves instead of having Israel as their common enemy. "
Sayyed said "some" surrounding Hariri from Lebanon and "a large portion" from outside the country convinced the prime minister that Syria and its allies in Lebanon are the ones who killed his father.
"This is why he (Hariri) allowed, contributed to, turned a blind eye and supported a political, media, judicial and security structure of his advisers who chose Syrian false witnesses picked from Lebanese prisons, and provided them with temptations, particularly Zuhair Siddiq, Hussam Hussam and others, to accuse Syria and the four Lebanese officers (Sayyed one of them)," said the former detainee.
"But soon after our release and the fall of the hypothesis that Syria is behind the killing, they shifted their accusation within a month from Syria to Hezbollah, and this is no coincidence, of course, where police intelligence under Col. Wissam al-Hasan began arresting Israeli spy networks immediately after the release of the four generals in April 2009."
Sayyed said the Government of national unity agreed to finance the Special Tribunal for Lebanon "because we thought we were paying for justice and truth, not for an international tribunal looking for politics."
"But we found out four years later that the international law used the money to hit Syria and a portion of Lebanese through the false witnesses," he said.
Describing MP Walid Jumblatt as "unstable," Sayyed said he has no faith in the Progressive Socialist Party chief.
"I don't believe everything Walid Jumblatt says, whether he is with us or against us, because he changes his positions from one moment to another," Sayyed said.
Primary false witness
March 14 MP Okab Sakr told Akhbar al-Yawn news agency on September 23 that Sayyed is "the primary false witness" in the 2005 assassination of former Prime Minister Rafik Hariri.
"Hezbollah must start penalizing the primary false witness, which is now known and uncovered," Sakr said.
Sakr's remarks came after he accused Sayyed of fabricating the story published by German magazine Der Spiegel last year about the alleged involvement of Hezbollah in former PM Rafik Hariri's assassination.
"What was published by the German Der Spiegel was fabricated by Jamil Sayyed," Sakr said during a press conference.
The other , so called false witnesses , Zuhair Siddiq, Hussam Hussam were Syrian intelligence officers. While Siddiq is living in Australia , Hussam is living in Syria and many Lebanese leaders have urged the Syrian government to try him.
According to Ya Libnan legal advisers there is no such a thing as a false witness before indictments are made . Only the courts during the trial can determine whether a witness is for real or false. At this stage no body knows who will be indicted, despite the fact that Hezbollah chief Sayyed Hassan Nasrallah has revealed that some members of the party will be indicted. Such information is not coming from STL …such information is most probably assumptions or extrapolations coming from Hezbollah members that were interrogated by the Investigators. The trials will start after the indictments are made . There are 12 judges , 4 of them are Lebanese .
Many Lebanese legal experts believe that the issue of false witnesses is being used by Hezbollah and its allies to undermine and discredit the Special Tribunal for Lebanon.