Lebanon MP: Funding STL is a must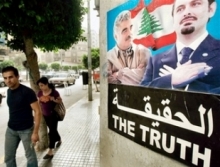 March 14 MP Riad Rahhal told ANB television on Thursday that financing the Special Tribunal for Lebanon (STL) is mandatory, adding that if Lebanon does not finance it, other countries will.
Rahhal also called on March 8 to let the STL do its job.
March 14 MPs withdrew from the September 16 evening session of the Parliamentary Budget and Finance Commission to prevent it from reaching a quorum when March 8 MPs called for voting on a 2010 state budget clause pertaining to Lebanon's funding of the STL.
"Hezbollah will use its position in government to try to block Lebanon's funding for the U.N. court investigating the 2005 assassination of former Prime Minister Rafik Hariri", the group's spokesman said Wednesday.
Tension escalated in Lebanon after reports said that the Special Tribunal for Lebanon (STL) will soon issue its indictment into the 2005 assassination of former Prime Minister Rafik Hariri. Last July, Hezbollah Secretary General Sayyed Hassan Nasrallah said that the tribunal is "an Israeli project" that will indict Hezbollah members. Nasrallah accused Israel of being behind Hariri's assassination but refused to provide the evidence to STL to prove his case. Some March 8 coalition politicians have been calling for the abolition of the tribunal, while Free Patriotic Movement leader MP Michel Aoun and former head of General Security Jamil as-Sayyed publicly attacked the government.
"We are convinced Hezbollah killed Lebanon's former PM Rafik Hariri and the international investigation (committee) has the evidence to prove that," al-Akhbar newspaper on Friday quoted an "authoritative security source" close to Premier Saad Hariri as saying.