Efforts underway to resolve Lebanon tension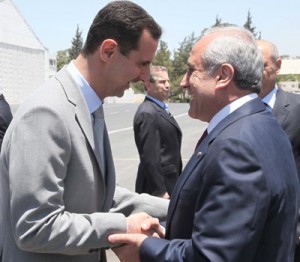 Al-Hayat newspaper reported on Sunday that there are domestic and foreign efforts to defuse political tension, adding that President Michel Suleiman is working to restore communication between Lebanese parties.
The newspaper also quoted informed sources as saying that contacts are underway among Lebanese politicians and foreign leaders to find a solution to the crisis that erupted after former General Security Department chief Maj. Gen. Jamil Sayyed threatened several Lebanese officials.
Sharp political criticisms were made against Sayyed, who during a press conference last week warned Prime Minister Saad Hariri to "give me my right, [or] I swear on my honor that I [will] take it with my own hands." The former General Security chief called on the people to "revolt against authority and attack officials in their houses."
Change and Reform bloc leader MP Michel Aoun also sparked a series of criticisms against him after his Tuesday press conference, in which he called on Lebanese citizens to not abide by requests of the Internal Security Forces (ISF)- Information Branch or Attorney General Judge Said Mirza.
On Friday, Suleiman discussed the current "crisis" over the phone with his Syrian counterpart Bashar al-Assad, the daily reported.
Official sources told al-Hayat that Suleiman has made phone calls based on a conviction that he has Syrian support for his role in trying to ease the tension and bring viewpoints among bickering Lebanese politicians closer.
The daily also quoted an unnamed source as saying that Speaker Nabih Berri is in touch with Suleiman in order to maintain a calm political atmosphere, adding that the Amal Movement did not participate in receiving Sayyed at Beirut's Rafik Hariri International Airport.
Among those who welcomed the former security chief at the airport were Hezbollah, Free Patriotic Movement members and MP Assem Qanso representing the Baath party.
When asked by a reporter about the reason behind Amal MPs' absence from the welcoming ceremony, Hezbollah MP Nawaf Moussawi said: "Hezbollah and present MPs represent Amal and Speaker Nabih Berri."
Moussawi made his comment during a press conference at the VIP lounge at the airport ahead of Sayyed's arrival from Paris.
Sayyed launched his attack against the judiciary and Hariri last Sunday following his return from Syria, signaling Syria's support for his attacks.
Ad-Diyar newspaper quoted on Sunday an unnamed source as saying that there might be Syrian and Saudi efforts to deal with the current "loose" situation in Lebanon.
Saudi King Abdullah bin Abdel Aziz might visit Syria in the next few days, the source also said, adding that there will be political activity that aims to calm the political situation after Prime Minister Saad Hariri returns to Beirut.
According to the daily, Hariri will return to Beirut on Sunday.