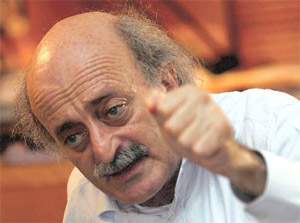 Progressive Socialist Party leader MP Walid Jumblatt questioned in his weekly article in the Al-Anbaa newspaper the "vicious campaign" against Prime Minister Saad Hariri, and said he is "surprised ", considering the important steps the PM has taken within the framework of political revaluation."
Jumblatt stressed that Hariri's revaluation "demands support, praise, and encouragement instead of the attacks, pressure, and threats" that it was met with.
"Hariri demonstrated an eagerness to rebuild Lebanese-Syrian ties according to the Taif agreement in a way that would protect the interests of both countries," he said.
This comes after former head of Lebanon's General Security Jamil as-Sayyed said during a press conference on Sunday that "[Saad Hariri] should take a lie detector test to prove he did not support or fund false witnesses in the Special Tribunal for Lebanon (STL)." He added that the prime minister should "admit that he sold his father's blood for four years in order to implement a new Middle East project," a reference to US policy in the region.
Sayyed is one of the four generals detained in Lebanon from 2005 to 2009. In April 2009, the STL ordered his release due to insufficient evidence.
"Sayyed has lost some of his memory and his psychological state is getting worse," MP Okab Sakr said Monday adding that the Sayyed's state of mind has deteriorated since he lost power as head of General Security.
March 8 forces have devised a "roadmap … to overthrow the Special Tribunal for Lebanon (STL) at any cost," Phalange Party political bureau member Michel Khoury reportedly said Monday , adding that such efforts would ultimately prove futile.
Sayyed reportedly launched his attack against Hariri , following a meeting with Syrian president Bashar al Assad last week.
Paris visit
Jumblatt , who returned from Paris last Sunday commented on reports on his meeting with French Foreign Minister Bernard Kouchner, saying they are "inaccurate and false."
Al-Hayat newspaper quoted on Sunday an unnamed source as saying that Jumblatt told Kouchner during their meeting last week that "justice and the truth are important, but the stability of the country is more important."
Al-Hayat reported that Paris considers the call by Jumblatt to "abolish" the indictment of the Special Tribunal for Lebanon as "inconsistent with France's stances."
According to the daily's source, Jumblatt said that "France will bear the responsibility for civil war if it happens."
This error message is only visible to WordPress admins
Error: No connected account.
Please go to the Instagram Feed settings page to connect an account.